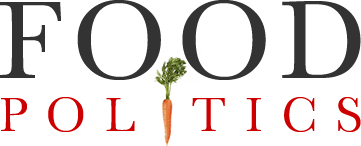 by Marion Nestle
Dietitians in turmoil over conflicts of interest: it's about time
My e-mail inbox is filled with items about the Academy of Nutrition and Dietetics (AND, formerly the American Dietetic Association).  Its "seal of approval" on Kraft cheese singles (as discussed in an earlier post) was embarrassing—so embarrassing that it was discussed by Jon Stewart: "The Academy is an Academy in the same way this [Kraft Singles] is cheese" (the clip starts at 4:37).
The Onion also had some fun with this.
But now there is even more about how food companies buy the opinions of dietitians.
Candice Choi writes about how Coca-Cola pays dietitians to promote its drinks as healthy snacks (for an example of one of the paid posts, click here).  She explains that the dietitians
wrote online posts for American Heart Month, with each including a mini-can of Coke or soda as a snack idea. The pieces — which appeared on nutrition blogs and other sites including those of major newspapers — offer a window into the many ways food companies work behind the scenes to cast their products in a positive light, often with the help of third parties who are seen as trusted authorities.
Ms. Choi quotes a Coca-Cola spokesman:
"We have a network of dietitians we work with," said Sheidler, who declined to say how much the company pays experts. "Every big brand works with bloggers or has paid talent."

Other companies including Kellogg and General Mills have used strategies like providing continuing education classes for dietitians, funding studies that burnish the nutritional images of their products and offering newsletters for health experts. PepsiCo Inc. has also worked with dietitians who suggest its Frito-Lay and Tostito chips in local TV segments on healthy eating.
These are individual actions.  But at last the dietetic membership is objecting to the Academy's partnership with Kraft.
They have started a Change.org petition to #RepealTheSeal.
The President of the New York State AND chapter (NYSAND), Molly Morgan, sent out a note in support of the petition.
Thank you to the many of you that have expressed your concern and disappointment about the Academy of Nutrition and Dietetics partnership with Kraft. This issue has been reviewed carefully by the NYSAND Board of Directors and the entire board is in support of actively taking steps to share our members concerns. Below are the action steps that NYSAND is taking:

–       Last week (March 11, 2015) the NYSAND Sponsorship Task Force recommendations were received and yesterday (March 16, 2015) at the March NYSAND Board of Directors meeting the Sponsorship Task Force recommendations were reviewed. Please stay tuned for more updates and note that a motion will be forth coming this week for the board to take the next step in addressing sponsorship for NYSAND.

–       Today (March 17, 2015) a letter was sent to the Academy president and emailed to several Academy leaders expressing the views that our members have shared and that as an Affiliate we are not comfortable responding with the talking points provided by the Academy on this issue.

–       Dietitians have started a petition, "Repeal the Seal"; NYSAND will be sharing this on our Affiliate Facebook and Twitter pages and encourages all members who share the concern to sign the petition as well. CLICK HERE to sign the petition.
3.  The AND national CEO, Patricia M. Babjak, sent out this letter to members, also on March 17:
Let me begin by apologizing for the concerns caused by the education initiative with Kraft. The Academy and the Foundation are listening. As a member-driven organization, the Academy's staff and leadership hear your concerns and welcome your input.

Unfortunately, recent news articles misstated a collaboration as a Kids Eat Right "endorsement" of Kraft Singles, and that it represents a "seal of approval" from Kids Eat Right, the Foundation, or the Academy. It is not an endorsement. It is not a seal of approval. We understand this distinction is of little consequence to many Academy members who are concerned with the perception. We are working on a solution.

In addition, we are working to establish a joint, member-driven Member Advisory Panel. This Panel will work closely with both Boards to:

Establish dialogue with members
Gather input and give feedback on member issues
Make specific recommendations

Recognizing sponsorship as a significant issue of concern among members, the House of Delegates leadership team, who also serve on the Board of Directors, scheduled a dialogue on sponsorship for the upcoming virtual House of Delegates meeting, May 3. We encourage all members to reach out to your delegates and share your thoughts on the benefits of, concerns about and suggestions for the sponsorship program. The Academy and Foundation Boards are looking forward to your input.
Applause to members who are speaking out.
As I said in an interview with TakePart:
The food companies have learned from tobacco and drugs and other industries like that how to play this game…Let's confuse the science, let's cast doubt on the science, let's shoot the messenger, let's sow confusion.

But since everyone has to eat, the food industry has been given a pass on its pay-to-play practices….

The capital N news…is that dietitians are fighting back at last.
I hope they join Dietitians for Professional Integrity and insist that the leadership respond to their concerns.
Addition: A dietitian sends this communication from the Executive Board of the California Dietetic Association to members about the Kraft situation:
We would like to direct your attention to what the California Dietetic Association (CDA) has done to address our own issues surrounding sponsorship. We heard your concerns regarding CDA Annual Conference sponsorship and we have listened. We voted and McDonalds was not invited as a sponsor in 2015. This decision has impacted our finances; however, we believe it was important to respond to our member feedback. In addition, an ad hoc committee approved by the CDA executive board, reevaluated the sponsorship guidelines. The new sponsorship policy will be posted soon on www.dietitian.org.