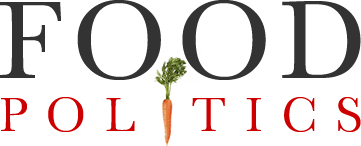 by Marion Nestle
The Paleo diet, sigh
The Wall Street Journal, hoping to generate some controversy, got me involved in a point/counterpoint about the Paleo Diet: "Is a Paleo diet healthy?"
It can be, but this is a point/counterpoint.  Hence, I took the position "NO: You Lose Too Much Pleasure for Dubious Benefits."  
Here's what I said:
Nutritionist that I am, the first questions I have about any diet are: What is it? Is the rationale behind it logical? And does it promote health?

A paleo diet is based on the premise that our genes govern what's best for us to eat. We evolved to eat whatever could be hunted or gathered. This makes it OK to eat leaves, shoots, roots, seeds, eggs, animals, birds and fish, but not OK to eat grains, legumes, dairy or processed foods.

Why do paleo proponents think the ills of modern society stem from a mismatch between our genetics and today's typical diets? The cave men, some argue, didn't suffer from diseases such as obesity, heart disease and diabetes.

The problem with that theory is that we really don't know what our Paleolithic ancestors ate. As I often argue, determining what people eat is the single most intellectually challenging question in nutrition science. It is extraordinarily difficult to get an accurate idea of what people ate yesterday, let alone 10,000 to a million or more years ago.

In reality, scientists are nowhere near being able to match genes to specific kinds of diets. The reason cave men didn't have chronic diseases like diabetes is more likely because they didn't live long enough and lacked antibiotics, rather than because they didn't eat carbohydrates.

Variety is key

What we know for sure is that the fundamental tenets of nutrition are variety, balance and moderation. The fewer kinds of foods consumed, the greater the chance of nutrient deficiencies. So while it is certainly possible to eat healthfully on a paleo diet, restricting whole groups of relatively unprocessed foods can make this more challenging. It also can take some of the joy out of eating by forcing people to give up foods that they love or that are part of their cultural heritage.

While there is no doubt that highly processed "junk" foods are unhealthy and should be kept to a minimum, grains and legumes are hardly the enemy. Diets that vary enormously—from the traditional high carbohydrate, rice-based cuisines of Asia to those of the Mediterranean rich in grains and olive oil—have been shown to promote health and longevity.

Yes, grains contain glutens, and bread and pasta are caloric, but such foods are also delicious and part of traditional diets in nearly every culture. Yes, legumes contain unpleasant phytochemicals, but these are mostly destroyed by cooking, and beans and peas are excellent sources of vegetable protein. If you eat foods from animal sources, why restrict dairy? Cheese and yogurt are lovely foods, and I, for one, cannot imagine life without an occasional serving of ice cream.

Eating less works

Any restrictive diet helps to reduce calorie intake, so it isn't surprising that there are studies linking paleo to weight loss, lower blood sugar and a reduced risk of cancers for which obesity is a risk factor. Eating less works every time.

So does eating a largely plant-based diet. Research suggests that we can reduce risks for today's diseases of affluence by eating more foods from plant sources and balancing calorie intake with expenditure. To the extent the paleo diet achieves these goals, it is a reasonable choice.

But food is so much more than bundles of nutrients. What we eat also nourishes us psychologically and culturally. So while a paleo diet isn't necessarily bad, why bother? I'd be sad to miss all those delicious forbidden foods.