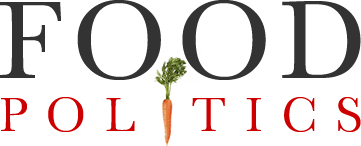 by Marion Nestle
Never a dull moment: the BMJ's attack on the Dietary Guidelines Advisory Committee report
Really, the Dietary Guidelines Advisory Committee's (DGAC) report shouldn't be this controversial and shouldn't be controversial at all (as I've said before).  But lots of people—the food industry, of course, but also some scientists and journalists—seem to have exceptionally intense opinions about the fat recommendations [Recall:  The DGAC report does not constitute the Dietary Guidelines; these are written by USDA and HHS and are not due out until the end of this year].
Now, we have the journalist Nina Teicholz, author of The Big Fat Surprise, repeating the themes of her book in the BMJ: The scientific report guiding the US dietary guidelines: is it scientific?.
The BMJ has also found that the committee's report used weak scientific standards, reversing recent efforts by the government to strengthen the scientific review process. This backsliding seems to have made the report vulnerable to internal bias as well as outside agendas.
Teicholz's interpretation of the science relating dietary fat to health has been thoroughly critiqued (see end of post).   The way I see it, these arguments are difficult to resolve outside the context of dietary patterns as a whole.
My hypothesis (note: hypothesis) is that for people who balance calorie intake with expenditure, the type of fat—or carbohydrate—matters much less than it does for people who overeat calories.  This hypothesis needs testing to confirm it.
What troubles me about Teicholz's work is the certainty with which she presents her ideas.  She comes across as utterly convinced she is right, even in the face of substantial and substantive criticism of her statements and interpretations.
At least one error
Here, for example, is one statement in the BMJ article that I know from personal experience cannot be correct.
Much has been written about how industries try to influence nutrition policy, so it is surprising that unlike authors in most major medical journals, guideline committee members are not required to list their potential conflicts of interest.
I was a member of the 1995 DGAC and I was required to declare conflicts of interest.  So were members of the committees in 2000, 2005, and 2010, as shown in this excellent short video.
Later, discussing conflicts of interest among DGAC members, Teicholz says:
Still, it's important to note that in a field where public research dollars are scarce, nearly all nutrition scientists accept funding from industry. [Nearly all?  I don't, and I doubt this is correct].  Of far greater influence is likely to be bias in favor of an institutionalized hypothesis as well as a "white hat" bias to distort information for what is perceived as righteous ends.
The "white hat bias" comment refers to a paper by authors who themselves report food-industry funding:
Competing Interests. Drs. Allison and Cope have received grants, honoraria, donations, and consulting fees from numerous food, beverage, dietary supplement, pharmaceutical companies, litigators, and other commercial, government, and nonprofit entities with interests in obesity and nutrition including in interests in breastfeeding and NSBs. Dr. Cope has recently accepted a position with The Solae Company (St Louis, MO.).
Responses to the BMJ article
The DGAC wrote a rebuttal to Teicholz.  It is published on the BMJ website.
HHS also published a statement, reproduced by Mother Jones.
The British Medical Journal's decision to publish this article is unfortunate given the prevalence of factual errors. HHS and USDA required the 2015 Dietary Guidelines Advisory Committee to conduct a rigorous, systematic and transparent review of the current body of nutrition science. Following an 19-month open process, documented for the public on DietaryGuidelines.gov, the external expert committee submitted its report to the Secretaries of HHS and USDA. HHS and USDA are considering the Scientific Report of the 2015 Dietary Guidelines Advisory Committee, along with comments from the public and input from federal agencies, as we develop the 2015 Dietary Guidelines for Americans to be released later this year.
Yoni Freedhoff's Weighty Matters blog provides a handy summary of additional responses to the BMJ article.
Scientific analysis of The Big Fat Surprise
Many of the scientific claims in this book seemed so far-fetched that they induced a nutritionist, Seth Yoder, to go over it line by line, read the references, and point out discrepancies.   These are posted on his website in two parts.
A summary quote from Part 1:
What makes this particular book interesting is not so much that it is bad (which it is) or that it is extravagantly biased (which it also is). No, what really fascinates me about this book is that the author excessively and shamelessly lifts other people's material.
And a quote from Part 2
The Big Fat Surprise (BFS) by Nina Teicholz is yet another book in a long line of books that informs the reader that everything you thought you knew about nutrition is wrong: saturated fat from animals is actually quite good for you, cholesterol isn't really important, the government lied to you, nutritionists and dietitians lied to you, the American Heart Association lied to you, etc… Leaving aside that the concept of that kind of a conspiracy actually existing is really absurd, what I'm surprised about is that publishers can keep churning out books like this and people are gullible enough to keep buying them.
Caveat emptor.
Additions: