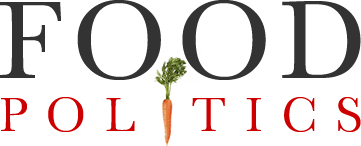 by Marion Nestle
Dietary guidelines shouldn't be this controversial
The uproar caused by the release of the Scientific Report of the 2015 Dietary Guidelines Advisory Committee (DGAC) has been even noisier than I predicted, so noisy that USDA Secretary Vilsack appears to have pulled back on it.  He told Jerry Hagstrom (HagstromReport.com) that:
He wants people to realize that the process of writing the dietary guidelines "is just beginning today," and that he and [HHS Secretary] Burwell will consider input from federal agencies and the general public. He said he wants to be sure that people "know that I know my responsibility."
In this, Vilsack was referring to the directive by Congress in the 2015 appropriations bill blocking him from considering sustainability in the guidelines.
As for the DGAC report: It concluded:
…the U.S. population should be encouraged and guided to consume dietary patterns that are rich in vegetables, fruit, whole grains, seafood, legumes, and nuts; moderate in low- and non-fat dairy products and alcohol (among adults); lower in red and processed meat; and low in sugar-sweetened foods and beverages and refined grains.
Predictably, this did not go over well with the meat industry or, for that matter, other industries affected by such advice or groups funded by such industries.
Less predictably, the New York Times published an Op-Ed by Nina Teicholz, the journalist author of "The Big Fat Surprise," a work based on her own review of the science of fat.  In her view, mainstream nutritionists have badly misinterpreted this science to the great detriment of public health.
Her conclusion:
…we would be wise to return to what worked better for previous generations: a diet that included fewer grains, less sugar and more animal foods like meat, full-fat dairy and eggs.
But Teicholz' book has been the subject of a line-by-line analysis by Seth Yoder (whom I do not know personally).  Mr. Yoder did what graduate students in science are trained to do: read the references.
He looked up and examined the references Teicholz cites in the book as the basis of her views.  He documents an astonishing number of situations in which the references say something quite different from what Teicholz gets out of them.  At the very least, his analysis raises serious questions about the credibility of her views on the science of fat.
Let's grant that the science of nutrition is difficult to do and complicated.  The New York Times should know this, which is why I'm surprised that it would give Teicholz so prominent a platform without countering them with point-counterpoint views of a respected nutrition scientist.
It does little to foster the health of the public to make nutrition science appear more controversial than it really is.
The basic advice offered by 2015 Dietary Guidelines Advisory Committee boils down to plain common sense:
Eat plenty of foods from plant sources
Eat foods from animal sources in moderation
Balance calories
Avoid overeating junk food
Unfortunately, this kind of advice doesn't make headlines or, apparently, merit op-ed space in the New York Times.