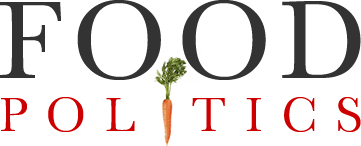 by Marion Nestle
The Kool-Aid Museum!
I gave a talk last week at Hastings College in Hastings, Nebraska.
Before I left, Michael Moss, who wrote the New York Times investigative report about Hasting's USDA animal research facility, mentioned the Kool-Aid museum.
The Kool-Aid museum?
As it happens, I adore museum exhibits devoted to single food items.  The Hastings Museum houses a permanent collection of Kool-Aid historical materials and artifacts.
A Hastings resident, Edwin Perkins, invented this product in 1927.
Kool-Aid, in case this isn't on your usual shopping list, is a flavored and colored powder that comes in small packets.  You add the 4.6 gram contents—plus one full cup of sugar—to two quarts of water.
What's in the packets?  I was given a cherry limeade flavor: contains citric acid, maltodextrin, calcium phosphate, vitamin C, natural and artificial flavor, salt, artificial color, red 40, tocopherol [a form of vitamin E], BHA, and BHT (preservatives).
The less said about nutritional value, the better.
But take a look at its corporate history:
1953   General Foods buys Kool-Aid
1985  Philip Morris buys General Foods and, therefore, Kool-Aid
1988  Philip Morris buys Kraft
1989  Philip Morris combines Kraft and General Foods to create Kraft General Foods (Kool-Aid is now owned by a cigarette company)
1995  Philip Morris names the combined entity Kraft Foods
2003  Philip Morris changes its name to Altria (Kool-Aid is still owned by a cigarette company)
2007  Philip Morris splits Kraft—and, therefore, Kool-Aid—off as a separate company
2012  Kraft splits into two companies, Kraft Foods Group (with Kool-Aid) and Mondelez International
2012  Kraft Foods Group cuts a deal with SodaStream International to use Kool-Aid with SodaStream devices
I loved the exhibit, even though you have to go through rooms full of guns to get to it.
The exhibit didn't mention the Jonestown massacre, the source of the phrase "drinking the Kool-Aid" because Kool-Aid was not involved.