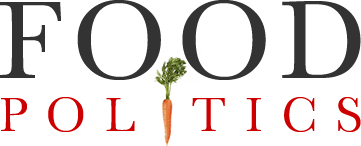 by Marion Nestle
Soda Politics: The blurbs!
On Fridays, I often post books I've blurbed or liked.
Today, it's my turn.  I can't resist posting the blurbs for Soda Politics: Taking on Big Soda (and Winning).   

The blurbs:
"The soda industry is a powerful economic operator. Economic power readily translates into political power. Soda Politics is exactly the kind of carefully-researched investigative reporting needed to open the eyes of the public and parliamentarians to the health hazards of what is, as the author rightly notes, essentially liquid candy in a bottle." –Dr. Margaret Chan, Director-General, World Health Organization
"No book in history has so completely laid bare the soda scourge that touches every corner of the world. Marion Nestle shows how this happened, its impact on human health and well-being, who the players are, and, most importantly, what might be done. This is the right book at the right time." –Dr. Kelly Brownell, Dean, Sanford School of Public Policy, Duke University
"Marion Nestle is one of the greatest muckrakers of our time, and what she does is vitally important-for our health, our environment, and for future generations. Here, she wages war against the soda titans with such piercing clarity and so many irrefutable truths that all other arguments crumble." –Alice Waters, Founder and Proprietor of Chez Panisse
"Comprehensive and well-written, this book will help frame a thoughtful public policy debate about nutrition and the societal impacts and costs of obesity." –Ann M. Veneman, Former US Secretary of Agriculture and Former Executive Director of UNICEF
"What happens when the food industry's most insightful critic turns her sights on soda? This razor-sharp, fun to read, plan-of-battle for one of the greatest public health fights of our time. Big soda may have all the money, but those who would enter this fray, as we all should, now have their champion." –Michael Moss, Author of Salt Sugar Fat: How the Food Giants Hooked Us
"For decades, soda companies have amassed fortunes off drinks that are making us sick. It took someone like Marion Nestle to cut through the spin and uncover the high cost of cheap sodas." –Robert Kenner, Director/Producer, Food Inc. and Merchants of Doubt
"Long recognized as an important and informed voice in our national and international discussions on nutrition and health, Marion Nestle has written another book that will keep us talking. With an impressive combination of scholarship and advocacy, Dr Nestle takes an unflinching look at the soda industry, its products and the impact on health. Soda Politics deserves the attention of the public and policy makers, and should make us all think more carefully about choices we can make to improve health and well-being."–Margaret Hamburg, M.D., Former Commissioner, U.S. Food and Drug Administration 
The book officially comes out October 5, but Oxford University Press is already shipping it to preorders and Amazon starts shipping it next week.
Enjoy!