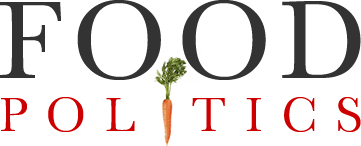 by Marion Nestle
FDA clarifies what's happening with menu labeling
Remember menu labeling—the amazing number of calories posted on your favorite items at chain restaurants?  For those of you who don't live in New York City or other places with calorie labels, they are supposedly coming soon to places near you.
Here's FDA-speak for what is happening:
In December 2015, section 747 of the 2016 Omnibus Bill prohibited FDA from using appropriated funding to implement, administer, or enforce the menu labeling requirements until one year after FDA finalized the draft September 2015 menu labeling guidance. While FDA originally issued a statement indicating the Omnibus Bill extended the compliance date, FDA is clarifying that the compliance date remains December 1, 2016, but, consistent with the Omnibus Bill, FDA will not begin enforcing the final rule until May 5, 2017, which is one year after the date that the Notice of Availability for the final guidance published in the Federal Register.  For more information see: Menu and Vending Machines Labeling Requirements.
Got that?
Really, these are worth waiting for.
Did you really want to eat that 650-calorie muffin?