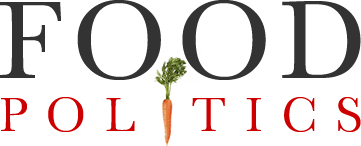 by Marion Nestle
Weekend reading: a how-to for sustainable food systems (again)
I'm not sure how this happened, but I posted the title and cover of this book in October without saying a thing about it.  My apologies.  Here it is again.
Darryl Benjamin and Lyndon Virkler.  Farm to Table: The Essential Guide to Sustainable Food Systems for Students, Professionals, and Consumers.  Chelsea Green, 2016.
This is two books in one.
The first part, Farm, is about the real costs of industrial agriculture, environmental and human, and what can be and is being done about them.
The second part, Table, is a how-to for restaurants, schools, and institutions who want to source from local farms and for local farmers who want to supply those places.
The book gives specific examples illustrated with charts and photos and provides theory as well as practice suggestions.
The chapter on marketing gives the seven Ps–product, price, place, promotion, people, process, and physical evidence—along with things to consider and tips.
We have emphasized throughout this book that Farm-to-Table products sell themselves.  This is usually true once people have sampled their quality, understand their importance to the community and to the environment, and know where to find them.  The role of marketing is to facilitate those connections.
This is a great guide for beginners but there is plenty to learn hear for everyone.