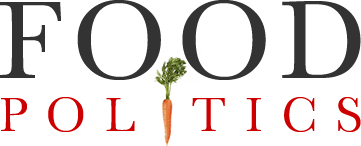 by Marion Nestle
SNAP to Health launches new website, resources
I was a member of the commission that developed the SNAP to Health report.  We recommended getting more information about what foods SNAP participants purchase with their benefits and conducting pilot studies or taking sugary drinks out of the eligible items.
Now SNAP to Health has redesigned its website as a a virtual town hall for information and resources regarding food insecurity, obesity prevention, and the current state of federal food assistance programs.  It has also added sections for WIC resources.
Here's the press release about the new site.
And here's one more item about SNAP
Pushing for drug testing of SNAP recipients: Wisconsin Gov. Scott Walker is still trying to do this in his state.  According to Politico, 
Wisconsin U.S. District Court Judge Charles Clevert threw out a lawsuit the state had filed against USDA in July 2015 that sought to prevent the department from blocking the state from implementing a drug-testing requirement for recipients of Supplemental Nutrition Assistance Program benefits. Clevert said Wisconsin filed suit too soon, because it did not allow USDA to formally reject the state's new requirement. Normally, states request waivers from USDA when they want to add their own SNAP requirements, but Wisconsin filed its suit preemptively — leading Agriculture Secretary Tom Vilsack to suggest shortly after the suit was filed that it was a political move by Walker, since he was a GOP candidate in the 2016 presidential race. (Walker ended his campaign in September 2015.)

"The reason why [Walker] hasn't requested a waiver is because he knows it's not going to be granted because the law is pretty clear," Vilsack said at the time.
This is a bad idea.  I hope he forgets it.