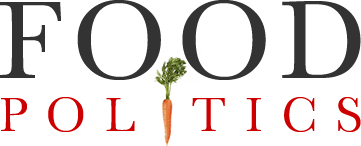 by Marion Nestle
Where are we on SNAP? In play, as always.
Here's what's going on.
SNAP costs are high
Even with the reduction, this is an expensive program and it's no surprise that Republicans want to cut it.
SNAP is under constant criticism and not only because of cost.  Advocates want it to do a better job of promoting nutrition and health, as shown in two recent reports.
Advocacy Report #1.  Supplemental Nutrition Assistance Program as a health intervention (by Jerry Mande and Grace Flaherty)
After reviewing the evidence on SNAP's impacts on food insecurity, dietary quality, and health as well as research on the health impacts of other more successful federal food assistance programs, we provide three policy recommendations to strengthen SNAP's effectiveness as a health intervention for children and families.
These are:
Make diet quality a core SNAP objective.
Srengthen requirements for SNAP-authorized retailers to promote healthier retail food environments.
Pair incentives for purchasing fruits, vegetables, and other healthy foods with restrictions on unhealthy foods and sweetened 2beverages.
Advocacy Report #2.  Making Food and Nutrition Security a SNAP: Recommendations for the 2023 Farm Bill (from the  Bipartisan Policy Center's Food and Nutrition Security Task Force.
Some of its major recommendations:
Make sure benefit levels are adequate to achieve healthy diets.
Make sure eligibility and work requirements do not preent undue barriers to participation.
Encourage consumption of nutritious foods through existing and demonstration projects.
If I read this right, "demonstration projects" is a euphemism for not permitting sugar-sweetened beverages to be purchased with SNAP benefits.
Who knows how all this will play out.  I've just read the manuscript of a history of SNAP arguing that SNAP is bullet-proof because it solves a major societal problem and because it is inextricably linked to agricultural supports in the Farm Bill.  Look for the book when it comes out (I will certainly post it as a Weekend Reading):  Christopher Bosso.  Why SNAP Works: A Political History—and Defense—of the Food Stamp Program.  University of California Press,  2023.
And my contribution to this particular cause
is here.
*******
For 30% off, go to www.ucpress.edu/9780520384156.  Use code 21W2240 at checkout.