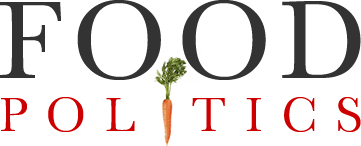 by Marion Nestle
Some progress in healthier school meals
I am late in getting to this report on school meals from the Pew Charitable Trusts and the Robert Wood Johnson Foundations, which came out in early December. 
Their jointly sponsored Kids Safe and Healthful Foods Project took a good hard look at how schools were faring under the Obama administration's rules for healthier lunches, breakfasts, and snacks. 
Some of their findings:
6 in 10 directors said they faced only a few or no ongoing obstacles to meeting updated breakfast requirements; 4 in 10 said the same of the lunch guidelines.

For breakfast and lunch, the commonly cited challenges were sodium and whole grain targets.

Most programs use a mix of strategies—three, on average—to encourage students to eat nutritious meals (e.g., salad bars).

Holding taste tests with students and redistributing uneaten, sealed foods were among the most effective ways to reduce waste (but only about 40% of schools were doing this). 

Programs preparing more foods from scratch and increased the use of salad bars were more likely to report that student participation rose or was unchanged from 2011-2015.

Two-thirds of schools reported compliance with the Smart Snacks nutrition standards.

Equipment and labor costs were the most frequently reported financial concerns.

84 percent of program directors reported rising or stable combined revenue (meal reimbursements plus snack and beverage sales) in the past year. 
Most schools are managing; some are still having problems.  My guess is that what I've always observed is still true: if the school food director and the principal are committed to serving healthier meals, they find a way to do that.  If not, they don't.  Schools that cook from scratch do better—but that also takes commitment.
Most needed are (1) enough money to do it right, and (2) education, training, and decent pay for school food service personnel.
Documents and links: