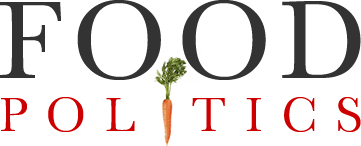 by Marion Nestle
Edible Communities: Happy 15th Anniversary!
I was invited to write a short piece for Edible Communities reflecting on the 15-year anniversary of these publications, which began with Edible Ojai and now include 90 Edible Magazines throughout the country.
They titled it: Where to From Here? The Local Food Movement 15 Years Later
The editor writes:
Edible Communities began in 2002 with the launch of Edible Ojai, a magazine that chronicled the rising interest in farm-to-table/local, organic and natural foods. Since that time, the organization started by Tracey Ryder and Carole Topalian has grown into a revolutionary, award-winning media network that encompasses over 90 independently-owned and operated magazines and websites across the United States and Canada. In 2011, Edible Communities was recognized by the prestigious James Beard Foundation as "the voice of the local food movement."

As the organization celebrates its 15th anniversary, Marion Nestle looks back at how the local food movement has changed the way we eat and how the world (especially the U.S. and Canada) can best ensure—via political action and other means—a healthy and sustainable food supply in the years to come.
And here's what I wrote:
Can it really be 15 years since Edible Ojai kick-started the Edible Communities contribution to the local food movement? Edible Communities has played such a vital role in the stunning changes that have taken place in the North American food world since the mid 1990s. At a time when global politics seems ever more intimidating and irrational, local food movements shine as beacons of empowerment and hope. By making food choices that support regional farmers and producers, we vote with our forks for healthier and more sustainable lives for ourselves, our children, our communities, and our planet.

I use the word "vote" advisedly. Choosing local food is an outright act of politics.

I am a college professor and I hear all the time from students about how much they want to find work that will give meaning to their lives and help change the world, but how pessimistic they feel about whether this is possible in today's political environment. They see what needs to be done, but don't know how or where to begin.

Begin with food, I tell them.

They are too young to realize how much the food movement already has accomplished: a lot. The food system has changed so much for the better since Edible Communities began its journey.

Here is my personal measure of its progress. In 1996, my New York University colleagues and I created undergraduate, master's and doctoral programs in Food Studies. Everyone thought we were out of our minds: Why would anyone want to study about food? But we got lucky. The New York Times wrote about our programs the week after they were approved. That very afternoon, we had students in our offices waving the clipping and telling us that they had waited all their lives for these programs. Now, just about every college I visit offers some version of a Food Studies program or food courses in fields as diverse as English, history, art and biology.  Students see how food is an entry point into the most pressing problems in today's society: health, climate change, immigration, the –isms (sex, gender, race, age), and inequities in education, income, and power.

Some gains of local food movements are easier to measure than others. One of my favorites: The New Oxford American Dictionary added "locavore" as its word of the year in 2007.

The easiest to measure are those counted by the USDA, starting with farmers' markets. In 1994, there were 1,755; by 2016, there were 8,669. The USDA is mainly devoted to promoting industrial agriculture but has had to pay attention (if a bit grudgingly) to the growth of local and regional food systems. It reports that about 8 percent of U.S. farms market foods on the local level, mostly directly to consumers through farmers' markets and  harvest subscription (CSA) arrangements. It estimates local food sales at more than $6 billion a year. This is a tiny fraction of U.S. food sales, but growing all the time.

More signs of progress: Since 2007, regional food hubs, which the USDA defines as collaborative enterprises for moving local foods into larger mainstream markets, have tripled in number. The USDA finds four times as many school districts with farm-to-school programs as it did a decade ago. It even notes the number of farms selling directly to retail stores or restaurants. As for what seems obvious to me—the increasing value of local food to local economies—the USDA remains hesitant (hence: grudging). It admits that "local economic benefits may accrue from greater local retention of the spent food dollar" but is withholding judgment pending further research.

The USDA partners with other federal agencies in a Local Foods, Local Places program aimed at revitalizing communities through the development of local food systems. These not only involve farmers' markets, but also cooperative groceries, central kitchens, business incubators, bike paths and sidewalks, and school and community gardens. This program may be minuscule in federal terms, but that it exists at all is testimony to how effectively local food movements have encouraged the development of home, school, community and urban gardens. The Edible Communities publications have both chronicled and championed all these changes.

One more measurable change: the increasing sales of organics. Organic production, of course, is not necessarily local but it is very much part of the food movement.  Its growth is remarkable—from about $15 billion in sales in 2006 to nearly $40 billion in 2015. As the Organic Trade Association puts it, "Consumer demand for organic has grown by double-digits nearly every year since the 1990s." This has happened so quickly that the demand now exceeds the supply.

My last example: In the summer, even New York City supermarket chains proudly display locally grown foods, usually defined as coming from within New York, New Jersey or Connecticut, but still a lot closer than California or Latin America, where much of the city's food usually comes from.

But the USDA has no idea how to measure the other critical accomplishments of the food movement. It is hard to put a number on the personal and societal values associated with knowing where food comes from and how it is produced.

Some months ago in the New York Times Magazine, Michael Pollan complained that the food movement is barely a political force in Washington, DC, despite its having created "purchase by purchase, a $50 billion alternative food economy, comprising organic food, local food and artisanal food." "Call it Little Food," he said, pointing out that "while it is still tiny in comparison with Big Food, it is nevertheless the fastest-growing sector of the food economy."

His concern was the need to consolidate these gains, join forces and exert power at the national level. Even in today's political climate, this can—and must—be done. I've seen local food movements in the United States evolve over the years to increasingly converge with movements for organics, and also with those for better access to food and for health, food justice, environmental justice, food sovereignty, living wages and gender, racial and economic equity. We need to keep doing this, now more than ever.

The congressional Freedom Caucus is doing all it can to revoke a long list of federal regulations, many of which deal with food. Its members want to do away with healthier school meals, the National Organic Program, food labels, menu labels and a host of food safety regulations. We need to do more than vote with forks to protect the gains of the last few years. We need to "vote with votes." This means doing basic politics. The most important strategy by far is to write, call and meet with our own congressional representatives or their staff. If one person does this, they might not notice. But if several do, they pay attention. If many do, they pay more attention. Get friends to help.

We often hear it said that "all politics is local." Local food movements prove that point. So much can be done at the local level to strengthen food systems and encourage community action. Real social change starts locally, and builds from there. That's why Edible Communities matters so much. They are a force for strengthening local food movements, supporting community development and taking political action for a healthier and more sustainable future. May they flourish!