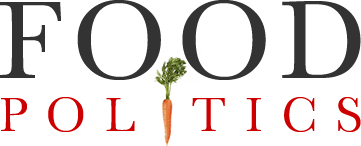 by Marion Nestle
Tenth anniversary: Why I keep doing foodpolitics.com
This is foodpolitics.com's tenth anniversary week.  Welcome to post #3189.
Today, some reflections, in the form of a self-interview:
What do you do on foodpolitics.com?
My current habit is to post just once a day during the week (with occasional lapses).  On Fridays I usually post something about a recent book or report under the heading of weekend reading.  I also use the site to post information about my books, upcoming presentations, and media interviews.
How did you get started?
As I mentioned in yesterday's post, the publisher Farrar, Straus, and Giroux (FSG) established the site to see if it would help publicize What to Eat.  I had promised to use the site for a few months before deciding whether to continue.  In the beginning, blogging felt awkward and it took a few months for me to find my voice and get comfortable with it.
What does it do for you?
I could see right away that the site would be really useful, in these ways:
An online file cabinet:  I could link to sources for whatever I was writing about, a process much easier than downloading things to paper and letting them pile up to file.
Links to original documents and sources: It lets me put my hands on key documents right away.  Sometimes it's the only place to find certain documents online.
Tracing back history: WordPress has an excellent search engine, so it is easy to find posts on specific topics, which it gathers one right after another.
Information for reporters: They can see what I say and don't have to call me.
Incentive to keep up: If something interesting is happening and I want to blog about it, I am going to have to dig into it right away.
Part of my university's community service requirement: As faculty, I am supposed to teach, do research, and perform community service.  This goes under that heading.
A gift to students: If students are writing papers about food politics topics and need help getting started, I can refer them to the site.
My private rant: It's a platform to say what I think about current events.
You must have to spend a lot of time on it?
Not nearly as much as I worried it might.  I work on it in at odd moments.  Just within the last year, I discovered that posts can be scheduled.  If I know I have a busy week coming up, I can do them in advance; sometimes I do the whole week over a weekend.
How do you know what to write about?
Food politics is a full-employment act.  There is always something.  I subscribe to a dozen or so daily newsfeeds.  Choice is a bigger problem.  Because I only post once a day, I pick the topic I find most interesting, outrageous, or funny.
How do you handle comments?
When I started the blog, I thought I would be engaging in ongoing conversations with readers.  I liked that until the "trolling" started.  One (or possibly more) anonymous writers, using false email addresses and IP addresses traced to a spam site, posted highly unpleasant personal comments about my age, looks, ethnicity, and opinions—several times a day—and tried to organize a campaign to get NYU to fire me.
Readers complained about the nastiness, and I finally asked my New Zealand web managers for help.  Now if you want to post a comment, you have to register with a real email address.  That put a stop to the trolling (good) but also to most of the comments (alas).  If I say something about GMOs, readers argue endlessly with each other, but that's about it for comments.
Is the blog useful to anyone else?
I certainly hope so.  I tried hard to talk about issues in a way that is clear to readers—especially students—who want short summaries of current topics, an opinion about them, and might want to look at older posts as background.
Who reads it?
I don't really know.  the statistics say it has a small readership of just a couple of thousand a day, but the posts go out over Twitter (@marionnestle) and Facebook too.
I do hear from some of you when I make mistakes or say something you don't like, and I occasionally meet readers at conferences, which is always a pleasure.  People actually read it!
How long will you keep doing this?
I haven't really thought about it.  It's become a habit, an easy one follow, and one I enjoy.  And I've been inspired by the appreciative comments I've been getting this week.
Thanks to all of you who sent them in, whoever and wherever you are.
And now,  back to food politics.