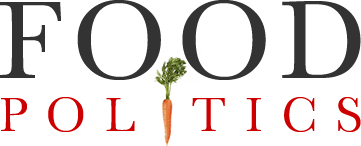 by Marion Nestle
Menu Labeling: the saga goes on and on
Listing calories in chain restaurants, you may recall, was authorized by Congress as part of the Affordable Care Act in 2010.
That was an astonishing seven years ago.  In the interim, the FDA wrote regulations, took public comments, rewrote regulations, scheduled them for implementation in 2017, and delayed them until 2018.
New York City, you might also recall, instituted menu labeling in 2008.  The world did not come to an end.
The City said it would go ahead and implement the federal version of the rules as originally scheduled.
The National Association of Convenience Stores objected (the industry has opposed menu labeling from the get go) and went to court to stop the City from doing this.
The FDA—a public health agency, mind you—is supporting industry in this suit.
Even if the City's characterization of the FDA's posture as a delay were correct, which it
is not, the City cannot rely upon a supposed void created by the agency to justify its position. As the Supreme Court has made clear, localities may not use the purported "failure of . . . federal officials affirmatively to exercise their full authority" as an excuse to "use their police power to enact a regulation" in a regulatory realm that is otherwise expressly preempted…[New York] may not choose to take its own path in the face of this clear expression of Congressional purpose.
The New York Times wrote about this, pointing out that since most chain restaurants are already in compliance with the law," what's the big deal?
I'm quoted:
Marion Nestle, a professor of nutrition and public health at New York University, suggested that the latest delay was part of an industry push under the Trump administration to eliminate the federal menu labeling requirement altogether.
The longer the delay, the more the industry can fight it.
This is a consumer-unfriendly move on the FDA's part, and not a good sign of what is in store for food politicies under FDA's jurisdiction.