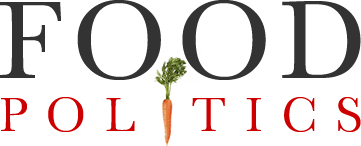 by Marion Nestle
What's up with NAFTA? Here's how to get started.
The US, Canada, and Mexico have just finished the first round of NAFTA (North American Free Trade Agreement) negotiations.  Like all trade agreements, participants are looking for terms that will benefit them.
The U.S. objectives are on record (there are lots):
For agriculture, we want:
Duty-free market access for agricultural products
Reduced or eliminated tariffs for our products.
Elimination of non-tariff barriers—quotas, subsidies, price discrimination and undercutting.
Reasonable adjustment periods for regulatory changes
Reduction in burdens caused by regulatory differences.
For "Sanitary and Phytosanitary"—food safety—measures, we want:
Enforceable science-based measures
Allowing countries to set their own levels of food-safety protection
Expeditious resolution of unwarranted barriers to US food products
Enforceable rules to ensure non-discriminatory implementation of science-based measures.
Transparency in negotiations
Politico Pro Morning Agriculture has a truly wonderful summary of the positions of the three trading partners (if it's behind a paywall, try this).
Timeline
Round #1: ended on Sunday (Here's the bland trilateral statement about it)
Round #2: September 1-5 in Mexico City
Round #3: September 23-27 in Canada
Finish: before Mexico's next election early in 2018
Want to know more?  Begin with the Institute for Agriculture and Trade Policy (IATP).
Want to figure it out for yourself?
The FERN's Ag Insider summarizes its recent NAFTA coverage , and makes it available outside its usual paywall—a gift:
Enjoy!