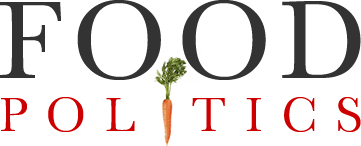 by Marion Nestle
The state of obesity, U.S. 2017
Where are we in obesity prevalence?  The Robert Wood Johnson Foundation (RWJF) and Trust for America's Health (TFAH), are keeping score for us.   Their report gives figures state by state.  Since I live in New York, I'm highlighting its figures.
This looks like good news.  The increase is slowing down and maybe trends are leveling off at long last.
CHILDREN'S PREVALENCE OF OVERWEIGHT AND OBESITY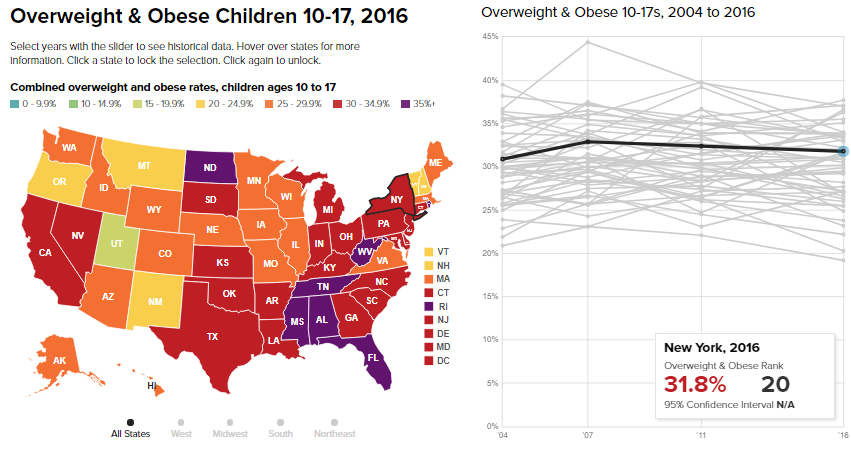 This also looks hopeful.  The prevalence is level or declining in most states.
But, as Richard Besser of the Robert Wood Johnson Foundation and John Auerbach of Trust For America's Health explain in an editorial in The Hill,
One of the best ways to bring down those adult obesity rates in every state is to prevent children from becoming overweight or obese in the first place…Unfortunately, there are signs that we are moving in the wrong direction—and not just on school meals…These kinds of threats put at grave risk the progress our nation has achieved. To accelerate progress in addressing obesity, we urge policymakers to support proven programs like school meals and SNAP that put kids on a healthier track for their entire lives, and maintain full funding for agencies like the Centers for Disease Control and Prevention that are responsible for protecting the health of kids and adults nationwide.