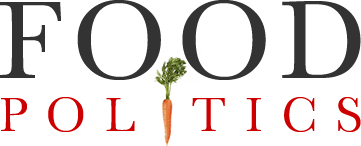 by Marion Nestle
Food-Navigator-USA's 10 trends to watch in 2018
Elaine Watson at Food Navigator-USA says we should be watching these ten trends in 2018.
Cellular agriculture: cell-cultured meat, fish, etc.
Plant-based innovation: chickpea proteins and the like
GMO labeling (and non-GMO claims): rules for these are still pending
Clean label 2.0: these encompass everything from additives to sustainability
Health confusion (and is saturated fat really back?)
Sugar under fire: reduce, replace
Protein…still hot?
Fermentation on fire; probiotics hit the mainstream
The Amazon effect
Big Food in a funk
She has interesting things to say about all of these.  Take a look and keep score as the year progresses.