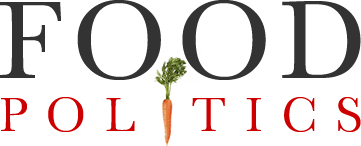 by Marion Nestle
Our Orwellian USDA doublespeaks again
FERN's Ag Insider reports: USDA's top lawyer says politics has nothing to do with the recent reassignment of senior officers.
Of course it doesn't.
Stephen Vaden, the former Trump transition official now serving as the USDA's interim chief lawyer, says politics played no part in the reassignment of 13 of the department's top-rank and highest-paid civil servants since the new administration took office. Four of the career employees retired rather than accept the new posts.  "All reassignments were based on organizational need," said Vaden in a seven-page letter released within hours of a request from all 10 Democrats on the Senate Agriculture Committee for information about the personnel moves.
Does he really think anyone believes this?
Statements from USDA these days are easily interpreted.  They mean the opposite.