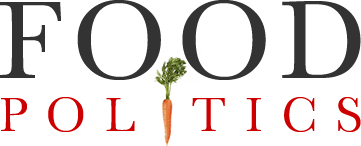 by Marion Nestle
Weekend reading: Food industry influence on government health policies
This report from the UK Health Forum is a compendium of case studies about food industry influence on government food and nutrition policies in developing countries such as Mexico, Chile, Fiji, Brazil, and Guatemala, but also England, Canada, and others.
To pick just one example, that of Chile:
This case study examines the long-standing relationship between the food
industry and the Institute of Nutrition and Food Technology (INTA) of the
University of Chile – the most prestigious food and nutrition-related institution
in the country. The types of collaboration include:

industry-funded research
scholarships and awards
membership of industry-funded or linked foundations
awarding of nutrient-specific certification of foods that are high in calories,
sugar, saturated fats or salt
joint public health programmes
marketing in institutional publications and websites.

INTA plays a major role in food policy-making in Chile…The existence of
strong financial ties between INTA and the food and drinks industry represents
a conflict of interest, potentially compromising INTA's independence in highly
relevant research and policy areas.