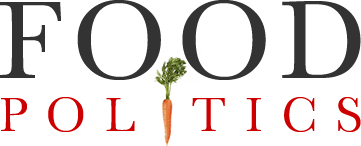 by Marion Nestle
Defections from GMA: the score increases
As I mentioned in a previous post, I'm keeping score on companies dropping their membership in and substantial financial support of the Grocery Manufacturers Association, the lobbying group for decidedly consumer-unfriendly food companies.
Add the top two are new to the list since my last post.
The Kraft Heinz Company
DowDuPont
Hershey
Cargill
Tyson
Unilever
Mars
Campbell Soup
Nestlé (my non-namesake)
Dean Foods
Kraft Heinz makes Kraft Macaroni & Cheese, Tang, and Lunchables, among lots of other products.  It told Politico Morning Agriculture (this may be behind a paywall):
The Kraft Heinz Company will continue to focus this year on wins for the consumer including innovating new products, using simpler and more sustainable ingredients and providing more transparency about our offerings.  We appreciate GMA's many contributions on behalf of the industry and our consumers.
Will the defections lead to a collapse of the GMA?  Or force it to reform?  Or let it continue to limp along?  Stay tuned.