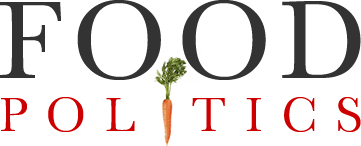 by Marion Nestle
Don't eat romaine lettuce until this outbreak ends
I've been following the E. coli 0157:H7 outbreak caused by eating romaine lettuce grown in Yuma, Arizona.
The CDC says the body count so far is:
Cases = 121
Hospitalizations = 52
Deaths = 1
Where the cases have been found:
What the "epi curve" looks like:
What's happening with the FDA's investigation:
The FDA has identified one farm [Harrison Farms of Yuma, Arizona] as the source of the whole-head romaine lettuce that sickened several people at a correctional facility in Alaska. However, the agency has not determined where in the supply chain the contamination occurred…All of the lettuce in question from this farm was harvested during March 5-16 and is past its 21-day shelf life. Because the growing season in the Yuma region is at its end, the farm is not growing any lettuce at this time.

Most of the illnesses in this outbreak are not linked to romaine lettuce from this farm, and are associated with chopped romaine lettuce. The agency is investigating dozens of other fields as potential sources of the chopped romaine lettuce and will share information as it becomes available.
Some interesting aspects of this and other leafy green outbreaks:
In the meantime, the CDC's advice to you:
Do not eat or buy romaine lettuce unless you are sure it was not grown anywhere near Yuma.
Do not eat or buy romaine lettuce if you cannot tell where it was grown.
Do not eat salad mixes unless you are sure it is free of romaine lettuce.
This applies to romaine lettuce in any form: heads, hearts, chopped, baby, organic, in salads or salad mixes.
But Consumer Reports says to avoid romaine lettuce entirely.
Seems like good advice until this one gets figured out.