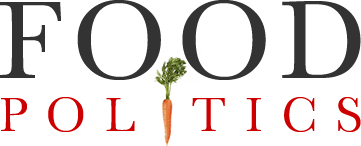 by Marion Nestle
Big Soda strong-arms California: no more soda taxes for 12 years. Shame!
In 2017, Jennifer Pomeranz and Mark Pertschuck published an article in the American Journal of Public Health titled State Preemption: A Significant and Quiet Threat to Public Health in the United States.
How right they were.
Last week, California Governor Jerry Brown signed a law banning new soda tax initiatives in the state until 2030, thereby preempting local initiatives planned and in progress.
Raw, overt power politics (my emphasis throughout).  The Sacramento Bee shows how it's done.
The Hill explains that this bill was a compromise.
The measure was a last-minute compromise to stop an initiative circulated by the beverage industry that would make it more difficult to raise state and local taxes in California.  "Mayors from countless cities have called to voice their alarm and to strongly support the compromise which this bill represents," Brown wrote in a signing message.
Big Soda's tactic: use California's ballot initiative process to put forth a measure requiring a two-thirds majority to pass any new tax legislation.  Brown and those mayors must have assumed it would pass (anything to prevent new taxes).  Brown said he would agree to a 12-year moratorium on new soda taxes if the soda industry would withdraw the measure.  It did, and he signed.
In explaining the so-called "compromise" (in quotes because this was blackmail), US News quotes state senator Scott Wiener (Dem-San Francisco):
This industry is aiming a nuclear weapon at government in California and saying, 'If you don't do what we want we are going to pull the trigger and you are not going to be able to fund basic government services."
In other words, the beverage industry held the state hostage. Like the Sacramento Bee, I'd call this a shakedown.
The Sacramento Bee also called it extortion—a power play by the American Beverage Association that:
appears to be working as intended. As the deadline for signing the state budget approaches this week, a developing trailer bill attached to it would give Big Soda a 12-year ban on local soda taxes in exchange for dropping a ballot initiative that would threaten the finances of cities throughout California. Who says extortion doesn't pay?
The New York Times explains the "stunning" preemption:
Now the beverage industry has a new approach. Instead of fighting the ordinances city by city, it is turning to states, trying to pass laws preventing any local governments from taxing their products.
The reactions have been fierce.
Nancy Brown, CEO of the American Heart Association says, "We've seen some cynical moves to protect profits, but this soda tax ban is a new low."   The American Heart Association issued a statement:
The bill—a last-minute, backroom deal negotiated and written in secret by beverage industry lobbyists and their allies—is a significant step backwards in the ongoing effort to reduce overconsumption of sugary drinks.

"This is one of the worst pieces of legislation I have seen in more than 30 years spent fighting for better health for kids and families," said Nancy Brown, CEO of the American Heart Association. "We could not be more disappointed to see this bill, taken straight from the tobacco industry playbook, pass."
The LA Times said "Shame on California lawmakers for caving in to the soda industry."
There's a lot at stake for America's biggest soda companies. Carbonated soft drinks – such as Coke, Fanta, Sprite, and Fresca – make up two-thirds of Coca-Cola's production, and U.S. soda sales earned the company more than $10 billion in 2015. And PepsiCo's soda sales – including Pepsi, 7Up, and Mountain Dew – still account for one-quarter of the company's $38 billion in North American sales, despite a shift toward healthier products. But soda consumption fell to its lowest point in 31 years in the U.S. in 2016, according to Fortune, and Coca-Cola concedes that sweetened beverage taxes "are hurting Coke's business."
I'll end with this quote from the New York Times:
Bill Monning, the Senate majority leader, was one of a handful of Democrats who voted against the bill. He called its passage "unprecedented" and said it would stop cities and counties "from being able to take steps to protect the health of their residents"…"It's a sad day for democracy in California," he said. "But ever the optimist I think that the outrage of Big Soda blackmailing the state legislature and the people of California is going to boomerang."
Let's make sure that happens.
And while we are at it, don't let this happen in your state.  If the soda industry threatens to mess with state elections, tell your representatives and governor to resist.  California public health advocates: keep the pressure on.  Advocate for bans on sodas everywhere you can: schools, hospitals, workplaces, government offices.  Expose what the industry is doing to protect its profits at the expense of public health.  Don't give up.  Courage!
For the record, here's where to find out more about this shameful episode.