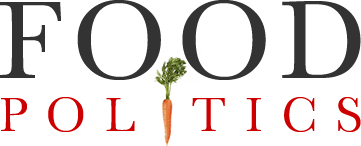 by Marion Nestle
The latest in dietetic junk food
My colleagues who attended the Academy of Nutrition and Dietetics annual meeting and Expo brought back examples of what I love to call dietetic junk foods.
The big trends in such products are gluten-free and allergy-free—apparently without much regard for taste (at least by my standards).
Here is an example of a gluten-free product: 
Check the ingredient list:
Cane sugar, pea starch, potato starch,non-hydrogenated shortening (palm oil, modified palm oil), white rice flour, tapioca starch, water, tapioca syrup, pea protein, salt, pea fiber, natural flavor, modified cellulose, inulin, sodium bicarbonate, sunflower lecithin, beta-carotene (color).
And, in case you were worried, it's "not a product of genetic engineering."
To me they taste like chalk, but sweet.
Here's an example of an allergy-free product:
It too has a long ingredient list:
Organic rolled oats, rice protein crisps (rice protein, rice starch), tapioca syrup, cocoa butter, pearled sorghum crisps, organic caramel (organic cane sugar, water), date paste, brown sugar, dried banana, roasted and salted sunflower seeds (sunflower kernels, sunflower oil, salt) safflower oil, white pearled sorghum flour, popped sorghum.
But this one is remarkable for what it does not contain:
I did not particularly like the texture or taste (off flavors) of this one.
Apparently, the Expo had loads of these.
Why?  Real (relatively unprocessed) foods are less profitable, alas.