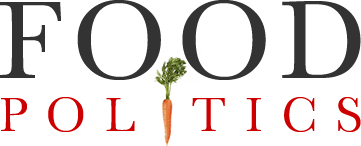 by Marion Nestle
Climate change report: bad news for agriculture
The US Global Change Research Program released its 4th report on climate change Wednesday night, coincidentally or deliberately during the slow news Thanksgiving holiday.
The U.S. Global Change Research Program (USGCRP) is a Federal program mandated by Congress to coordinate Federal research and investments in understanding the forces shaping the global environment, both human and natural, and their impacts on society.

USGCRP comprises 13 Federal agencies that conduct or use research on global change and its impacts on society, in support of the Nation's response to global change.
The report comes in two volumes, a technical report and an assessment report.
Don't look for any good news here, especially for agriculture.
U.S. agriculture and the communities it supports are threatened by increases in temperatures, drought, heavy precipitation events, and wildfire on rangelands (Figure 1.10) (Ch. 10: Ag & Rural, KM 1 and 2, Case Study "Groundwater Depletion in the Ogallala Aquifer Region"; Ch. 23: S. Great Plains, KM 1, Case Study "The Edwards Aquifer"). Yields of major U.S. crops (such as corn, soybeans, wheat, rice, sorghum, and cotton) are expected to decline over this century as a consequence of increases in temperatures and possibly changes in water availability and disease and pest outbreaks (Ch. 10: Ag & Rural, KM 1). Increases in growing season temperatures in the Midwest are projected to be the largest contributing factor to declines in U.S. agricultural productivity (Ch. 21: Midwest, KM 1). Climate change is also expected to lead to large-scale shifts in the availability and prices of many agricultural products across the world, with corresponding impacts on U.S. agricultural producers and the U.S. economy (Ch. 16: International, KM 1).
Chapter 10 has four key messages, none of them cheerful:
1:  REDUCED AGRICULTURAL PRODUCTIVITY: Food and forage production will decline in regions experiencing increased frequency and duration of drought. Shifting precipitation patterns, when associated with high temperatures, will intensify wildfires that reduce forage on rangelands, accelerate the depletion of water supplies for irrigation, and expand the distribution and incidence of pests and diseases for crops and livestock. Modern breeding approaches and the use of novel genes from crop wild relatives are being employed to develop higher-yielding, stress-tolerant crops.

2: DEGRADATION OF SOIL AND WATER RESOURCES: The degradation of critical soil and water resources will expand as extreme precipitation events increase across our agricultural landscape. Sustainable crop production is threatened by excessive runoff, leaching, and flooding, which results in soil erosion, degraded water quality in lakes and streams, and damage to rural community infrastructure. Management practices to restore soil structure and the hydrologic function of landscapes are essential for improving resilience to these challenges.

3.  HEALTH CHALLENGES TO RURAL POPULATIONS AND LIVESTOCK: Challenges to human and livestock health are growing due to the increased frequency and intensity of high temperature extremes. Extreme heat conditions contribute to heat exhaustion, heatstroke, and heart attacks in humans. Heat stress in livestock results in large economic losses for producers. Expanded health services in rural areas, heat-tolerant livestock, and improved design of confined animal housing are all important advances to minimize these challenges.

4: VULNERABILITY AND ADAPTIVE CAPACITY OF RURAL COMMUNITIES: Residents in rural communities often have limited capacity to respond to climate change impacts, due to poverty and limitations in community resources. Communication, transportation, water, and sanitary infrastructure are vulnerable to disruption from climate stressors. Achieving social resilience to these challenges would require increases in local capacity to make adaptive improvements in shared community resources.
The recommendations: reduce greenhouse gas emissions, now.