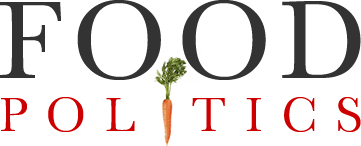 by Marion Nestle
Biden's USDA looks like it is doing plenty about climate change
I got a press release from the USDA last week: USDA Releases 90-Day Progress Report on Climate-Smart Agriculture and Forestry
The U.S. Department of Agriculture (USDA) today published the 90-Day Progress Report on Climate-Smart Agriculture and Forestry.

The report represents an important step toward in President Biden's Executive Order on Tackling the Climate Crisis at Home and Abroad and shift towards a whole-of-department approach to climate solutions. The Order, signed January 27, states that, "America's farmers, ranchers, and forest landowners have an important role to play in combating the climate crisis and reducing greenhouse gas emissions, by sequestering carbon in soils, grasses, trees, and other vegetation and sourcing sustainable bioproducts and fuels."
This report is the result of a presidential executive order in January requiring the USDA to say how it plans to promote climate-friendly agriculture.  It pretty much summarizes what the USDA has been doing and intends to do more of in the future.
Actually, the USDA has a lot to say about climate change.  It just wasn't allowed to, at least publicly, during the previous administration.
For example, the USDA published Building Blocks for Climate Smart Agriculture and Forestry in May 2016.
The agency has web pages devoted to climate-change topics; each of these comes with additional pages on sub-heading topics.
It looks to me as though this agency is taking a lead role on climate change, at least in some ways.
But what about meat?  Politico notes that the Biden administration is keeping hands off that issue.
President Joe Biden is not going to ban red meat. In fact, his administration isn't doing much to confront the flow of harmful greenhouse gases from the very big business of animal agriculture.

The Agriculture Department's newly published "climate-smart agriculture and forestry" outline says almost nothing about how Biden aims to curb methane emissions from livestock operations. But environmentalists argue that any effort to shrink the farm industry's climate footprint is half-baked if it relies on voluntary efforts and doesn't address America's system of meat production.