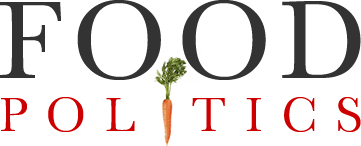 by Marion Nestle
At last: the 2020 Dietary Guidelines Advisory Committee
Very late in the process, the USDA and HHS have finally announced the membership of the Dietary Guidelines Advisory Committee for 2020:
Today the Secretaries of USDA and HHS announced 20 nationally recognized experts who have been selected to serve on the 2020 Dietary Guidelines Advisory Committee.

The independent Advisory Committee will review the scientific evidence on topics from the Departments and provide a report to the Secretaries that, along with public and agency comments, will help inform USDA and HHS's development of the 2020-2025 Dietary Guidelines for Americans.
I know several of the members.  I served with Barbara Schneeman on the 1995 DGAC, for example.
Some members have financial ties to food companies with deep interests in the what the guidelines say.  This is despite the agencies' statements that
The vetting process also included a background check by the USDA Office of the Secretary to determine if any of the candidates have a financial, ethical, legal, and/or criminal conflict of interest that would prohibit them from serving on the Committee…Each Committee member submitted a financial disclosure report prior to appointment and will continue to do so annually thereafter. Each report was reviewed by USDA ethics officials for financial conflicts of interest and compliance with Federal ethics rules.
Politico's Helena Bottemiller Evich asked groups to say who they nominated to the committee.  What she found is here, but behind a paywall.  I've added the information from these lists in red.  She is still trying to find out who nominated the others.
As for transparency:
Helena Bottemiller Evich (@hbottemiller) tweeted at 11:36 AM on Fri, Feb 22, 2019:
Everyone says they want a "more transparent" Dietary Guidelines process, but the minute I ask for who X group nominated to be on DGAC food/ag/health groups are like https://t.co/6J8GJnGpD7
(https://twitter.com/hbottemiller/status/1099030227009835008?s=03)
Overall, this looks to me like any other DGAC except that there are twice as many members as in the past.
Their job is to review the research and write a report.  The agencies write the guidelines.
I will be following all this with great interest, as always.