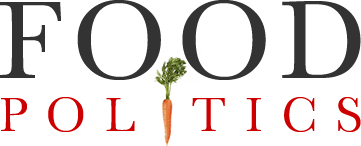 by Marion Nestle
Environmental Working Group: Pesticides in Produce
I am often asked about pesticides on fruits and vegetables, how serious a problem they are, and how to avoid them.  I don't know how harmful they are; the research is too hard to do definitively.  But I generally favor the Precautionary Principle: while the science is pending, avoid them as much as you can.  Here's how.
The Environmental Working Group has released its annual lists of the most and least pesticide-laden fruits and vegetables.
Nectarines
Grapes
Peaches
Cherries
Pears
Tomatoes
Celery
Potatoes
The report emphasizes:
More than 90 percent of samples of strawberries, apples, cherries, spinach, nectarines, and kale tested positive for residues of two or more pesticides.
Multiple samples of kale showed 18 different pesticides.
Avocados
Sweet corn
Pineapples
Frozen sweet peas
Onions
Papayas
Eggplants
Asparagus
Kiwis
Cabbages
Cauliflower
Cantaloupes
Broccoli
Mushrooms
Honeydew melons
See the full list of fruits and vegetables.This results may sound cute, but this report comes with impressive supporting material: