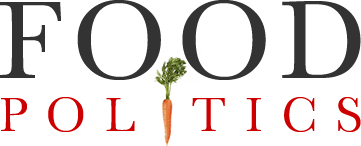 by Marion Nestle
GAO's 40-year plea for better oversight of food safety
Food safety seems very much on the agenda this week.
The Government Accountability Office (GAO) has released its latest biennial High Risk list of programs "vulnerable to fraud, waste, abuse, and mismanagement, or that need transformation."
Of interest is this listing: Improving Federal Oversight of Food Safety. The report finds not much change from goals set two years ago; the goal for an action plan is still not met:
Without a government-wide performance plan for food safety, Congress, program managers, and other decision makers are hampered in their ability to identify agencies and programs addressing similar missions and to set priorities, allocate resources, and restructure federal efforts, as needed, to achieve long-term goals. Moreover, without a centralized collaborative mechanism—like the FSWG [Food Safety Working Group]—to address food safety, there is no forum for agencies to reach agreement on a set of broad-based food safety goals and objectives that could be articulated in a government-wide performance plan on food safety.
The GAO explains why inadequate federal oversight of food safety poses a high risk.  Safety issues, it says,
are governed by a highly complex system stemming from at least 30 federal laws that are collectively administered by 15 federal agencies. For more than four decades, we have reported on the fragmented federal food safety oversight system, which has caused inconsistent oversight, ineffective coordination, and inefficient use of resources. We added federal oversight of food safety to the High-Risk List in 2007. In recent years, moreover, we have made recommendations aimed at helping to reduce fragmentation in federal food safety oversight. As of November 2018, two of three recommendations related to this high-risk area had not been implemented.
In 2017, I wrote about how the GAO has been calling for decades—more than 40 years—for better coordination of food-safety oversight, and my post lists a selection of GAO reports dating back to 1970.
The GAO is still at it.
We should not give up either.