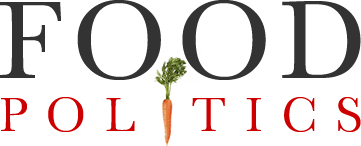 by Marion Nestle
FDA and USDA agree on how to regulate cell-based ("fake"?) meat
Last week, the USDA and FDA ended their turf battle and announced a joint framework for jointly regulating cell-based meat products.
Congress instructed them to do this in a statement related to the Appropriations Act:
Not later than 60 days after the date of the enactment of this Act, the Secretary of Agriculture and the Commissioner of Food and Drugs shall enter into a formal agreement delineating the responsibilities of the two agencies for the regulation of cell-cultured food products derived from livestock and poultry. Such agreement shall be made public on the USDA and FDA websites within one day of the completion of the agreement.
These products, not yet on the market, are made from animal cells grown in tissue culture; no animals are killed in the process.
What to call these emerging products is a matter of some debate.  Proponents call them such things as in vitro, lab-based, vat-grown, or clean.
The meat industry wants them called artificial, synthetic, or fake.  It publishes a flier called "Fake Meat Facts."
The proposed plan calls for the FDA to regulate the collection of animal cells, cell banks, and cell growth—the processes.  USDA will oversee production, as it does for live animals and poultry.
Much must be at stake.  The agencies' framework is proactive; the products are not expected to be marketed for several years.
The meat industry is relieved that USDA is in charge.
National Cattlemen's Beef Association President Jennifer Houston said, "The formal agreement announced today solidifies USDA's lead oversight role in the production and labeling of lab-grown fake meat products."

"This is what NCBA has been asking for, and it is what consumers deserve," Houston said.
The market for these products is expected to be huge, but questions remain:
We will be hearing a lot more about these products as they head to market.