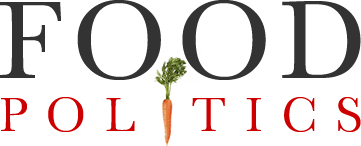 by Marion Nestle
RIP The Salt Institute
I never thought I would live to see this day, but the Salt Institute announced that it is ending operations at the end of this month.
I first learned about the Institute in the late 1980s when I was Senior Policy Advisor to the Office of Disease Prevention and Health Promotion (ODPHP) editing the 1988 Surgeon General's Report on Nutrition and Health.  The Institute visited us regularly to try to discourage the report from advising "eat less salt."
Since then, the Salt Institute has been relentless in following the industry playbook to:
Cast doubt on science linking high salt intake to disease risk
Argue that the current high levels of salt intake are just fine for health
Maintain that only a small portion of the population is salt-sensitive
Promote science arguing that low salt intake is harmful
The Institute has a lot to answer for.  It has been responsible for confusing the science and creating a most peculiar situation: noisy public debate about salt science while every expert committee examining the relationship of salt to health concludes that we should be consuming much less.
It can hardly be a coincidence that the most recent and most authoritative review of salt and health came out just a few days before the Institute's announcement .  That review by the National Academies of Science, Engineering, and Medicine reaffirmed what Dietary Guidelines have been saying for years: the upper recommended limit of sodium intake is 2300 milligrams per day, or about 6 grams of salt (a bit more than a teaspoon).
On average, Americans consume much more and, as the Center for Science in the Public Interest (CSPI) has demonstrated for years, single restaurant meals easily exceed that much.
CSPI's former director, Michael Jacobson, issued a statement.
It might seem the stuff of satire that there is a trade association devoted to defending the amount of salt in our food supply—which contributes to hypertension and cardiovascular disease—and on our roads.  Or at least there was: the Salt Institute will close its doors at the end of this month. And it will not be missed.
Rest in peace.