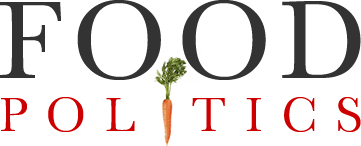 by Marion Nestle
Industry-funded research journal: potatoes
Since my book Unsavory Truth came out late last year, I am posting occasional recent examples of issues I discussed in it.  Today's issue: industry funding of research on potatoes of all things.
I am well aware that the role of white potatoes in the U.S. diet is hotly contested.   The EAT-Lancet report I wrote about recently advises against eating potatoes:
Potatoes, although containing large concentrations of potassium and some other vitamins, provide a large amount of rapidly absorbed carbohydrate, or glycaemic load. Daily consumption has been associated with increased risk of type 2 diabetes, hypertension, and weight gain.
Obviously, the potato industry would like to counter advise like that.  Its Alliance for Potato Research & Education is devoted to precisely that cause.  The Alliance explains that it is "Dedicated to advancing the scientific understanding of the role potatoes play in promoting the health of all people."  It issues grants for up to $200,000 for "nutrition research proposals that help to advance scientific knowledge on the role of potatoes in various health outcomes" (the 2019 deadline just passed).
But I've just learned that the potato industry publishes its very own research journal: the American Journal of Potato Research.   It s subtitle: The Official Journal of the Potato Association of America, described as "A Professional Society for Advancement of the Potato Industry."
Surprisingly, the papers in this journal are behind a paywall.  If the industry wants its research to be read and digested (sorry), I would think its papers would be open access (I was able to get this through NYU's library).
One paper in particular caught my eye:
Invited review: Potatoes, Nutrition and Health.  Katherine A. Beals.  American Journal of Potato Research, 2018.  https://doi.org/10.1007/s12230-018-09705-4

Conclusion:  Until we have better research, "dietary guidance should continue to stress the importance of healthy eating patterns that consist of a variety of vegetables, including nutrient dense potatoes."

Author's funding disclosure: none.
Comment:  Evidently, this journal does not require authors to disclose funding.  Or perhaps every paper in this journal is sponsored by the potato industry?  Dr. Beals' c.v. discloses consulting for the Potato Board.
I enjoy eating potatoes and view their effects on health as depending on how they are prepared, how much is eaten, and how often.
The purpose of potato-sponsored research is to cast doubt on studies suggesting that eating less of them would be better for your health.  When you see studies of potatoes and health, be sure to ask who paid for them.