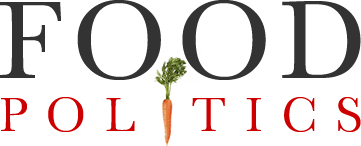 by Marion Nestle
Annals of food industry marketing: potatoes
I like potatoes and they have plenty of nutritional value along with their calories, but their calories mainly come from starch—a rapidly digested carbohydrate.
The Harvard Food Pyramid puts potatoes in the "Eat Sparingly" category, right at the top with red meat, butter, and sugary beverages.
Potato industry marketers to the rescue!  Take a look at the website of Potatoes USA, which has as its mission developing marketing campaigns for the industry.
Industry participation is key to making any campaign a success. Here you'll find marketing tools that will help you promote the positive potato nutrition message.  Find the tools that match your organization, whether you're looking for resources for retailers, manufacturers, consumers, foodservice operators, or information on potato nutrition.
Here you can find a toolkit on how to market potatoes:
For years we've talked about why you can eat potatoes. Now we're talking about why you should eat potatoes. Getting the whole industry involved is key to getting this message heard. Find the tools you need to support the process with events in your area.
I was interested in what they have to say about nutrition, of course: "Potatoes are more energy-packed than any other popular vegetable and provide the carbohydrates, potassium and energy you need to perform your best."
The nutrition campaign focuses on energy for performance.  It provides a Nutrition Facts label that reassures you that one 5.3-ounce potato has only 110 calories.
It doesn't say much—anything, really—about how Americans mostly eat potatoes, which happens to be as fries or chips.
It does provide tons of information about marketing methods, the research sponsored by the potato industry, and even issues regarding international trade—a goldmine if you are interested in this sort of thing.
If you just want to eat them, watch out for the added fats.  The bigger the potato—and the more butter and sour cream—the higher the calories.