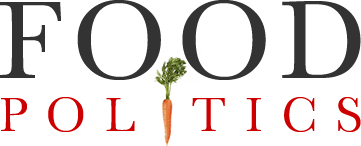 by Marion Nestle
Corporations will focus on social values? Really?
The Business Roundtable's Statement (and see B Corporation Statement below)
The Business Roundtable, an organization of corporations, issued a statement last week—in a two-page advertisement with all the signatures in the Wall Street Journal, no less—that got this New York Times headline: Shareholder Value Is No Longer Everything, Top C.E.O.s Say.
What?  This is some kind of joke, right?
I've been arguing for years that the Shareholder Value Movement, which forced corporations to single-mindedly focus on maximizing profits at the expense of every other societal value—attention to the welfare of workers, farm animals, public health, environmental protection—is responsible for just about everything that is wrong with our food system.
Corporations are now saying that they are committing to change that?
The Business Roundtable's press release says that it is redefining the purpose of corporations to promote an economy that serves all Americans—customers, employees, suppliers, communities, and shareholders.   Here is its website with all the commitment info.
Its statement, signed by nearly 200 corporations, commits them to [with my comments]:
Delivering value to our customers [they aren't already doing this?].
Investing in our employees. This starts with compensating them fairly and providing important benefits [this would indeed be a groundbreaking improvement].
Dealing fairly and ethically with our suppliers [they weren't doing this either?].
Supporting the communities in which we work [another excellent idea].
Generating long-term value for shareholders [isn't this what they've been doing to the detriment of everything else?]
This sounds good, but how do they plan to solve the central dilemma?  How do they intend to pay workers decent wages, improve the communities in which they operate, and stop damaging the environment—and still maximize benefits for shareholders?
No surprise, they don't say.
Also, as the Times noted,
There was no mention at the Roundtable of curbing executive compensation, a lightning-rod topic when the highest-paid 100 chief executives make 254 times the salary of an employee receiving the median pay at their company. And hardly a week goes by without a major company getting drawn into a contentious political debate. As consumers and employees hold companies to higher ethical standards, big brands increasingly have to defend their positions on worker pay, guns, immigration, President Trump and more.
I looked for food corporations among the signers (sorry if I missed any):
Aramark
Bayer (it owns Monsanto)
Coca-Cola
Land O'Lakes
PepsiCo
Procter & Gamble
Walmart
This is a small list.  Where, for example, are Mars, Nestlé, and Unilever?
I see this as flat out public relations, a response to increasing public distrust of corporate America and demands for corporate accountability.
If the signers mean business, let's see them deal with workers' wages right away.
Otherwise, I'm not holding my breath
The B Corporation Statement
And here's more.  Sunday's New York Times carried this advertisement from Certified B Corporations "meeting the highest standards of verified social and environmental performance, public transparency, and legal accountability to balance profit and purpose."
The ad is addressed to Business Rountable CEOs.
We are part of a community of Certified B Corporations who are walking the walk of stakeholder capitalism…We operate with a better model of corporate governance—benefit corporate governance—which gives us, and could give you, a way to combat short-termism and the freedom to make decisions to balance profit and purpose.
Among its food company signers are Ben & Jerry's, Cabot Creamery Cooperative, Danone North America, King Arthur Flour, Sir Kensington's, Stonyfield Organic, and Stumptown Coffee (there are others, as well).
I read this as a challenge: if the Business Rountable CEOs are serious about ensuring as B Corporations do, that "the purpose of capitalism is to work for everyone and for the long term," why don't they start by becoming B Corporations?
Until they do, the Business Roundtable statement is smoke and mirrors, to distract us from the damage the corporations are doing to our society and to our democratic institutions.