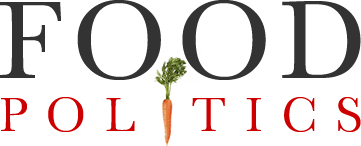 by Marion Nestle
Industry-funded study of the week: Potatoes (they improve athletic performance!)
The study: Potato ingestion is as effective as carbohydrate gels to support prolonged cycling performance.  Salvador AF, et al.  J Applied Physiology, 17 October 2019.
Conclusion: "Potato and gel ingestion equally sustained blood glucose concentrations and TT [time-trial] performance. Our results support the effective use of potatoes to support race performance for trained cyclists."
Funder: The Alliance for Potato Research and Education, "a not-for-profit organisation funded by the potato industry in the US."
Comment:  I learned about this study from an article in NutraIngrendients.com: "Powered by potato? Spuds 'just as good' as carb gels for athletic performance, says study."
Despite my previous correspondence and interview with the editor of NutraIngredients, the article failed to mention the study's industry sponsor.
This was especially disappointing because its sister publication, FoodNavigator.com, covered the same study but quoted the funding statement.
The study's title and result should have triggered a look to see who paid for it.  Really?  Cyclists are supposed to carry potatoes with them to eat on long races?   Why would anyone other than potato sellers even think of such a thing?
Addition: But see comments from readers…
I was interested to hear this from Courtney Puidk, a dietitian:
Love your industry updates – BUT actually using potatoes as fuel has been a thing with cyclists for a long time. I have several friends and an ex who used baked potatoes as fuel during bike races and triathlons because potatoes are 99% glucose so they shoot through you fast, and they have lots of potassium and sodium so act as natural electrolytes. They fit nicely into the pockets of cycling jerseys and/or water bottle holders. And they're cheap! Not to mention a whole food fuel source over some pricey, marketed sugar gel with lots of packaging.  Plenty of reasons to use potatoes as fuel!
And Simone Braithwaite, a reader from Australia, writes:
A friend of mine recently did the Comrades Marathon in South Africa. She has now done the 100km twice – once for each direction. Funny thing is, on the course the provided energy source is boiled potatoes (with salt). Runners actually carrying boiled potatoes along as they trudge this arduous race, apparently nibbling/sucking as they go.  In this developing world context I actually thought this was excellent as potatoes are an affordable and accessible food source for all. I also wondered how long this tradition would last – before multinationals got in with their 'superior' ultra processed products. Maybe this is one case where this study will be most useful!!!?
OK.  I concede.