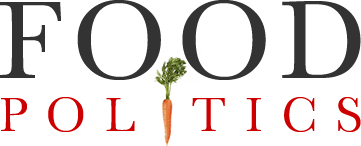 by Marion Nestle
Weekend reading: Let's take real action on childhood obesity
On World Obesity Day, I posted links to three recent reports.
An editorial in The Lancet made me realize that I had not read this one nearly carefully enough.  It deserves careful reading.
It comes from Sallie Davies, who just stepped down as Britain's Chief Medical Officer.  In another Lancet piece, she and her colleagues insist that children have a right to live in a healthy environment:
Today, government legislation is necessary not simply because we have an obligation to protect vulnerable children, but because children have rights. The UN Convention on the Rights of the Child (UNCRC), the most widely ratified international human rights treaty, sets out children's rights to protection, education, health and health care, shelter, and good nutrition…a child rights approach requires us to recognise childhood obesity as the responsibility of the state and as an issue that must be addressed across society…It is time to address childhood obesity as a rights issue.
In her report, she insists that government should enact legislation to ensure a healthy food environment; Annex A lists recommendations:
Increase taxes on sugary drinks
Require product reformulation to reduce sugar and calories
Tax unhealthy foods
Label calories
Provide free drinking water
Remove tax exemptions for advertising
Phase out marketing of unhealthy products
Ban eating and drinking on public transport
Only permit healthy options at sports facilities
Promote smaller portion sizes
Her report also suggests ways to promote physical activity.
Worth a try?  I think so.