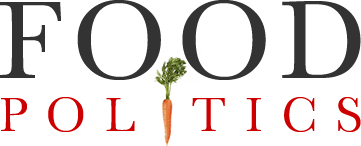 by Marion Nestle
Weekend reading: Food (of course)
Fabio Parasecoli.  Food.  MIT Press Essential Knowledge Series. 2019.
This is the latest work of my NYU Food Studies colleague, Fabio Parasecoli, a prolific scholar and writer.  The book is explained as:
A consumer's guide to the food system, from local to global: our part as citizens in the interconnected networks, institutions, and organizations that enable our food choices.
The book is a short (200 pages or so), small-format set of seven chapters on food systems, health and nutrition, the environment, technology, hunger, and what's next.
Here's an quick excerpt from a section in the Health/Nutrition chapter subtitled "Looking for easy solutions."
Superfoods offer simple–and lucrative–answers to very complex problems: rather than dealing with changes of habits or diets or trying to understand intricate metabolic functions, their consumption assuages the concerns connected with ingestion.  The attractiveness of superfoods and exotic or traditional remedies is also related to the diffusion of an approach to eating and health that has been described as nutritonism, characterized by "a reductive focus on the nutrient composition of foods as the means for understanding their healthfulness, as well as by a reductive interpretation of the focus of these nutrients in bodily health," with little concern for the level or processing or quality.  Consumers attuned to such approaches shift their attention from foods to individual nutrients: polyphenols in red wine are good antioxidants; lycopene in tomatoes can prevent certain kinds of cancer….Why worry about a balanced diet when you can make up for any deficiencies by consuming vitamins, fiber, or fortified foods? (pages 68-69).
A man after my own heart, obviously.  This is a short, easy introduction to most of the major food system issues under discussion today.  It also comes with a useful glossary.
Full disclosure: I read and commented on an earlier draft of the nutrition chapter and like the way it—and the other chapters—came out.