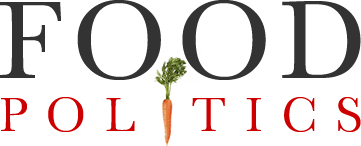 by Marion Nestle
Weekend reading: Gastronativism
Fabio Parasecoli.  Gastronativism: Food, Politics and Globalization.  Columbia University Press, 2021.  (226 pages)
My NYU colleague, Fabio Parasecoli, has just published this one.  I blurbed it:
Fabio Parasecoli draws on his deep international experience in this thoughtful analysis of how food gets ensnared in political ideology to separate "us" from "them."  Gastronativism argues convincingly that food systems are indeed global, and the sooner we get those systems to bring people together, the better.
A few excerpts:
On the connection between gastronativism and populism:
Not by chance, some of most infamous manifestations of gastronativism have appeared in countries where these leaders operate.  Food is able to activate emotions and does not require much mediation; it is shared by everybody, everybody experiences it, everybody is an expert.  Gastronativism interprets people's tangible experiences and frustrations as consequences of all-powerful, stealthy, and ruthless global dynamics, and it often does it through the language of victimization and suffrance.  Gastronativism provides a sense of rootedness, comfort, and security against the globalization. (p. 15)
On how gastronativism fosters a sense of community:
Instability has made the desire for community and rootedness more urgent, for good and for bad.  Food, as an expression of individual and shared identities, constitutes the perfect vehicle to make such aspirations tangible.  As such, the passions it elicits are ripe to be channeled ideologically.  Ideas of locality, nation, tradition, heritage, and authenticity have been activated in political projects operating at movements that range from anarchic anti-globalism to various forms of populism, nationalism, and sovranism, tainted at times with racism and xenophobia.
On gastronativism as a representation of "us" vs. "them":
A deeper awareness of the political, non-neutral quality of all processes defining food traditions and the quest for authenticity can provide a better grasp of the dynamics that allow dishes, products, or customs to be experienced as "local" or "ours." Understanding their emergence and changes over time and space would not diminish their emotional power, but it could blunt their exploitation by belligerent political actors. Appreciation and pride in one's culinary world should not necessary imply debasing the food of the others… By chipping away at ideas of an ageless, essential "us," greater awareness of the possible destructive impulses of gastronativist motivations and strategies could generate more openness toward "them," whoever they may be.