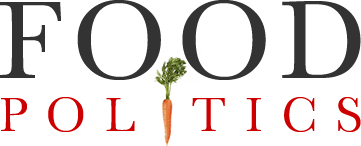 by Marion Nestle
RIP Chlorpyrifos (well, almost)
Corteva Agroscience, the big agribiz company formed last year by merging much of Dow, DuPont and Pioneer, has apparently announced that it will cease producing chlorpyrifos.
Chlorpyrifos, according to the EPA, is "an organophosphate insecticide…used primarily to control foliage and soil-borne insect pests on a variety of food and feed crops."  It is telling that the EPA's definition fails to mention that this chemical has been linked to neurodevelopmental problems in children.
As the Washington Post explains,
Corteva Agriscience, the nation's largest producer of chlorpyrifos, said the decision was driven by financial considerations, not safety concerns. "It's a tough decision forW us to make, but we don't feel like it's viable going forward," Susanne Wasson, Corteva's president of crop protection, said in an interview. "It was a business decision."  The announcement came the same day that California, a leading agricultural state, made it illegal to sell chlorphyrifos. It is one of a growing number of states that have moved to block the pesticide from the market.
This is big news. 
Last year, in an action considered a victory for the chemical industry, the EPA refused to ban chlorpyrifos.
The Trump administration took a major step to weaken the regulation of toxic chemicals on Thursday when the Environmental Protection Agency announced that it would not ban a widely used pesticide that its own experts have linked to serious health problems in children.  The decision by Andrew R. Wheeler, the E.P.A. administrator, represents a victory for the chemical industry and for farmers who have lobbied to continue using the substance, chlorpyrifos, arguing it is necessary to protect crops.
The EPA's decision reversed one made by the Obama administration, which banned chlorpyrifos in 2015 on the basis of the EPA's own studies linking the chemical to impaired brain development in children.
Advocates for banning chlorpyrifos are not breaking out the champagne.  They say they still have work to do.  Other makers are still producing it.
Still, this has to be a win for the advocacy groups that have long been working hard to get rid of chlorpyrifos.
They deserve our congratulations and enthusiastic support.