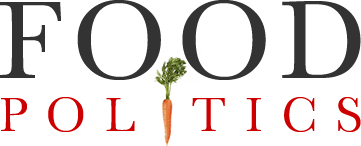 by Marion Nestle
Is it safe to eat fresh produce? Yes (with caveats)
I've been getting many requests from friends to weigh in on what's safe to eat.
Is it safe to eat fresh produce from supermarkets?
Is it safe to eat fresh produce in bags or plastic packs?
Is it safe to eat fresh produce from farmers' markets? [and see post this coming Wednesday]
Is it safe to eat take-out?
Is it safe to eat home-delivered meals?
To answer these questions, I did a lot of reading and also consulted my guru for such matters and longstanding colleague, Dr. Bobby Baron, Professor of Medicine and Associate Dean Graduate and Continuing Medical Education at UCSF.
Basically, the answer to all these questions is yes.  To date, there is no evidence of Cornonavirus transmission through food.
Transmission risk is greatest from infected people.  Hence: social distance and hand washing when dealing with food and deliveries of packages.
Coronavirus is a respiratory virus, mostly.  Contamination through food is theoretically possible, but hasn't happened yet far as we know.
To be 100 percent safe while eating fresh produce
Do what you would do in countries without safe water supplies—follow the P rules and only eat foods that are:
Piping hot

(hot temperatures destroy viruses and other microorganisms)

Peeled

(wash hands before and after)

Purified

(cooked and not recontaminated)

Packaged

(industrially packed, frozen, or dried)
As always, wash hands.
If you have fresh produce, wash it.  When in doubt, cook it.
Food safety resources for Coronavirus
Data on Coronavirus survival on surfaces
This week's blog is devoted to Coronavirus: There's no point in my talking about anything else
Tomorrow: an update
Wednesday: focus on farmers' markets
Thursday: pets
Friday: The only food-and-Coronavirus cartoon I can find
My mantra: Stay safe, stay healthy, stay sane.  Courage!