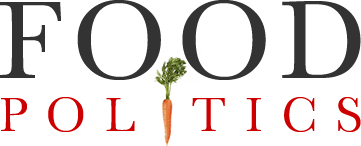 by Marion Nestle
USDA announces COVID-19 food assistance
The USDA has established a new Coronavirus Food Assistance Program (CFAP).
This has $19 billion to distribute to farmers, ranchers, and consumers.
Cutting through the rhetoric, the new program has two parts:
Direct Support to Farmers and Ranchers—$16 billion: for direct support and marketing costs.  [Note: producers say this is not enough].
USDA Purchase and Distribution—$3 billion: for buying fresh fruits and vegetables, dairy products, and meat products at the rate of $100 million per month, each.  "The distributors and wholesalers will then provide a pre-approved box of fresh produce, dairy, and meat products to food banks, community and faith based organizations, and other non-profits serving Americans in need."  [Note: Fruit and vegetable producers say this is not enough].
In addition, the USDA says it will:
Allocate $873.3 million to purchase a variety of agricultural products for distribution to food banks, as determined by industry requests, USDA agricultural market analysis, and food bank needs.
Under previous acts, allocate $850 million for food bank administrative costs and USDA food purchases, of which a minimum of $600 million will be designated for food purchases, as determined by food bank need and product availability.
Comment 
The bulk of this program goes to Big Ag—on top of the $22 billion or so Big Ag got in compensation for trade losses last year.
The much smaller Purchase and Distribution program is to deal with the shocking problem of producers destroying foods while hungry people line up for food distribution from food banks overwhelmed by the demand.
USDA is using this to reinstate its "harvest box" proposals as a means to replace SNAP benefits.
USDA is not backing off from its other long-term strategy to do all it can to reduce SNAP enrollments and benefits, or from Trump Administration public charge policies that put anyone who is not a citizen at risk of never getting citizenship or of deportation if they apply for public benefits.
These measures are expensive band-aids.  They do not address fundamental flaws in agricultural support programs.
Maybe this crisis will at last cause Congress to start supporting sustainable, resiliant agriculture?  Hey, I can dream.
Here is everything else the USDA says it is doing
the USDA announcement also says what it is already doing  "to make sure children and families are fed during a time of school closures and job losses, as well as increase flexibilities and extensions in USDA's farm programs to ensure the U.S. food supply chain remains safe and secure."  What follows is a direct quote.
Feeding Kids and Families
Actions to Ensure a Strong Food Supply Chain
Whole of Government Response in Rural America
For all the information on USDA's work during the COVID-19 pandemic and resources available, please visit www.usda.gov/coronavirus.