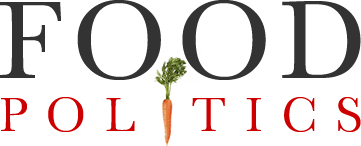 by Marion Nestle
The Dietary Guidelines Advisory Committee reports in today
The Dietary Guidelines Advisory Committee (DGAC) meets today to talk about its draft report.  Register for it here.  
The agenda is here.
Reporters tell me that the DGAC report will not be released at this meeting; it is not ready.
Here's what today's announcement says:
The Committee will finalize their advisory report based on Committee discussion at the meeting. They will then submit their final report to the Secretaries of USDA and HHS. USDA and HHS will post the final report online, send out a public notification, and open a new public comment period for the Departments to accept comments on the Committee's report. This action is expected on or around July 15, 2020.
This meeting is being held despite calls for delay.  Politico's Helena Bottemillier Evich describes these calls under "Influential groups press for delay of Dietary Guidelines" (behind a paywall at the moment).
The groups are turning up the pressure ahead of the committee's final public meeting on Wednesday, where the panel will discuss its draft conclusion statements. The committee is then expected to release in mid-July a sweeping scientific report to advise the Agriculture Department and Department of Health and Human Services on what the 2020 iteration of the guidelines should say.

Some of the Dietary Guidelines' staunchest allies and fiercest critics — including professional groups and low-carb advocates — are urging a delay. They note that last year's government shutdown and the continuing pandemic have made it more difficult for the committee to complete the necessary work before advising the government on the 2020 guidelines, which will last five years.
Corporate Accountability notes the undue influence of industry on the guidelines.  One of its recent reports documents ties of DGAC members to ILSI, an industry front group.
The guidelines are subject to criticism from just about everyone (me too).  I'm interested to see what this committee does.  Stay tuned.