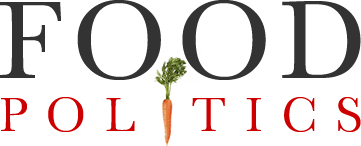 by Marion Nestle
One way to help farmers: CSAs
While we are seeking ways to support farmers and feed hungry people, Community Supported Agriculture (CSA) is a good model.  Civil Eats ran an especially interesting article about it.
CSAs are rooted in Black farmers in the South: In the 1960s and 70s, farmer and Tuskegee University professor Booker T. Whatley began advocating for what he called "Clientele Membership Clubs." In the mid-1980s, two farms in New England started what has now become the model for today's CSAs: small-scale farmers invested in agricultural stewardship, organic and other sustainable practices to build direct relationships with consumers. The idea is simple: members pay a small fee up front and commit to buy produce throughout a season…the CSA provides a sustainable financial model for farmers…In return, CSA members get regular boxes of fresh, local produce delivered to neighborhood pick-up spots…Today there are close to 13,000 CSAs across the country listed by USDA's 2012 farm census data.
My partner and I belong to a bread CSA run by Stefan Senders' Wide Awake Bakery.
Deliveries these days are in the middle of a parking lot for a mall that's mostly closed.  The rule: masks and 6-food distancing.
Sometimes the lines are very long, but the bread is worth waiting for.
In addition to its world class bread, Wide Awake now provides sour dough starter, flour, and recipes, along with a how-to guide to dealing with this new member of your family.
The bakery uses grains grown locally.  So it is helping farmers.
CSAs aren't for everyone.  Not everyone can afford to pay for food in advance.  But helping this bakery stay in business seems good for everyone, as do CSAs in general.