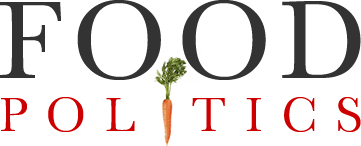 by Marion Nestle
More about the ongoing saga of the food boxes
I'm still trying to figure out what's happening with the USDA's food box program.  Is it helping farmers?  Recipients?  It's hard to get the big picture.
H. Clare Brown in The Counter writes that the Farmers to Families box program is failing to meet its targets.  It is "10 million boxes and 25 percent short of its forecasted delivery."
Other aspects of the distributor selection process were even more perplexing. No distributors from Maine were selected, for instance. Some contractors failed to deliver their boxes directly to distribution points, forcing food banks to incur tens of thousands of dollars in last-mile delivery costs. And then there were questions about the cost of the food: Despite requests from lawmakers, the agency has not publicly released detailed information about the prices it has paid for the food boxes. Reporting from The Counter found that, in some cases, the agency was paying well above retail prices for gallons of milk distributed in the boxes….Advocates have argued that the food boxes…represent a regressive attempt to reinvent the wheel, forcing people to wait in long lines reminiscent of Depression-era food handouts, in full view of their neighbors and in potentially dangerous proximity to other people. It remains to be seen whether the food box program is more efficient for purchasing groceries than SNAP.
In the meantime readers have been sending me photos of what they are seeing.
RC Rybnikar sends this photo with the comment that the lettuce was iceberg, not romaine.
Andrew Coe, who wrote the op-ed I linked to last week, sent a photo of a New York City Board of Education food box that is part of the city's free meals program.  
Well, the apples are fresh.
Larissa Zimberoff sent me a photo of pork patties distributed through a food bank in Marin County.  These do not appear to be part of the COVID-19 program.
Gayle Lautenschlager writes:
In a recent blog post regarding USDA food boxes you asked if there is a way to both more efficiently help people who need food while simultaneously helping farmers. The answer is yes and it is already being done in Washington state.

The program is called Farm to Food Bank. Harvest Against Hunger is the lead agency running this program as well as a sister program called King County Farmers Share.

The basic premise is that giving money directly to food banks allows them to wholesale purchase produce directly from local farmers. The result is that small local farmers are supported and food banks increase their distribution of culturally relevant and in demand produce. Often the local farmers will throw in extra produce or give a "non profit discount" which results in a below wholesale price per pound.
I am happy to know about such programs.
But my big question still remains: What is a sustainable way to address food insecurity in individuals and ensure a reasonable market that adequately compensates small- and medium-size farmers?
Can one policy do that?