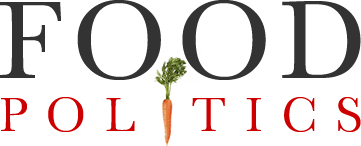 by Marion Nestle
Dietary Guidelines Advisory Committee releases report
The report of the 2020 Dietary Guidelines Advisory Committee is now available in online preprint.
It sets a record at 835 pages.
Its conclusions are highly consistent with those of previous Dietary Guidelines.
It recommends eating more of these foods:
Common characteristics of dietary patterns associated with positive health outcomes include higher intake of vegetables, fruits, legumes, whole grains, low- or nonfat dairy, lean meat and poultry, seafood, nuts, and unsaturated vegetable oils.
It recommends eating less of these foods:
The Committee found that negative (detrimental) health outcomes were associated with dietary patterns characterized by higher intake of red and processed meats, sugar-sweetened foods and beverages, and refined grains.
It retained the recommendation: Eat less red and processed meats
It retained the recommendation to eat less saturated fat (replace with polyunsaturated or monounsaturated)
Thus, the Committee recommends that dietary cholesterol and saturated fat intake be as low as possible within a healthy dietary pattern, and that saturated fat intake be limited to less than of 10 percent of total energy intake, as recommended by the 2015-2020 Dietary Guidelines for Americans. This recommendation applies to adults and children ages 2 years and older.
It tightened up restrictions on alcoholic beverages from 2 drinks a day for men to 1 drink:
The Committee concluded that no evidence exists to relax current Dietary Guidelines for Americans recommendations, and there is evidence to tighten them for men such that recommended limits for both men and women who drink would be 1 drink per day on days when alcohol is consumed.
It tightened up restrictions on added sugars, from 10% of calories to 6%:
After considering the scientific evidence for the potential health impacts of added sugars intake, along with findings from model-based estimations of energy available in the dietary pattern after meeting nutrient requirements, the Committee suggests that less than 6 percent of energy from added sugars is more consistent with a dietary pattern that is nutritionally adequate while avoiding excess energy intake from added sugars than is a pattern with less than 10 percent energy from added sugars.
What's missing?
Salt: The report says remarkably little about sodium beyond that it is overconsumed and people should "reduce sodium intake."  It's possible that I missed it, but I could not find suggestions for quantitative limits.
Ultraprocessed: The word does not appear in the report except in the references.  A large body of evidence supports an association of ultraprocessed foods to poor health.  If the committee considered this evidence, it did not spell it out explicitly.
Sustainability: This was off the table from the beginning but this committee recommends that it be considered next time in the context of a food systems approach to the Dietary Guidelines (p.771).
Comment
This is an impressive, solid, conservative review of the existing science highly consistent with previous Dietary Guidelines but with mostly stronger recommendations.
This committee was up against:
A tight time frame
A first-time mandate to review literature on infancy, pregnancy, and lactation in addition to that for adults
A first-time process in which the agencies set the research agenda, not the committee
The Coronavirus pandemic
At the outset, I was concerned that the committee members might be heavily biased in favor of food industry interests.  If they were, such biases do not show up in the final report.  I think this committee deserves much praise for producing a report of this quality under these circumstances.
Want to weigh in on it? 
The agencies are taking public comments until August 13.  On August 11, there will be an online public meeting for even more comments.
What's next?
This report is advisory, only.  USDA and HHS must boil this down to the actual 2020 Dietary Guidelines.  Whereas the committee process was transparent, the boiling down process is highly secretive, or was in 2015.  It will be interesting to see what the agencies do, especially given the heavy lobbying by proponents of meat, saturated fat, and low-carbohydrate diets.