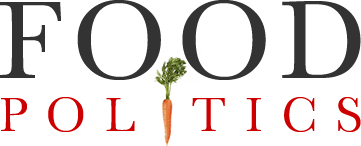 by Marion Nestle
The 2015 Dietary Guidelines Advisory Committee releases its courageous report
The 2015 Dietary Guidelines Advisory Committee (DGAC) issued its more than 500-page report yesterday.
Before I say anything about it, please note that this report informs, but does not constitute, the Dietary Guidelines. The agencies—USDA and HHS—write the actual Guidelines and are not expected to do so until the end of this year.
Here are what I see as the highlights (these are direct quotes)
A healthy dietary pattern is higher in vegetables, fruits, whole grains, low- or non-fat dairy, seafood, legumes, and nuts; moderate in alcohol (among adults); lower in red and processed meat; and low in sugar-sweetened foods and drinks and refined grains.
A diet higher in plant-based foods…and lower in calories and animal-based foods is more health promoting and is associated with less environmental impact than is the current U.S. diet.
It will take concerted, bold actions…to achieve and maintain the healthy diet patterns, and the levels of physical activity needed to promote the health of the U.S. population. These actions will require a paradigm shift to an environment in which population health is a national priority and where individuals and organizations, private business, and communities work together to achieve a population-wide "culture of health" in which healthy lifestyle choices are easy, accessible, affordable, and normative.
Some facts and statements from the report (not direct quotes).
Half the energy intake in U.S. diets comes from a combination of burgers and sandwiches (~14%), desserts and sweet snacks (8.5%), sugary beverages (6.5%), mixed dished made with rice, pasta, and other grains (5.5%, savory snacks (~5%), pizza (4.3%), and meat, poultry and seafood mixed dishes (~4%).
Nearly half of total sugar intake comes from beverages other than milk and 100% fruit juice
The report comments on issues under current debate.
Saturated fat: "replacing SFA with unsaturated fats…significantly reduces total and LDL cholesterol…Strong and consistent evidence…shows that replacing SFA [saturated fatty acids] with PUFA [polyunsaturated fatty acids] reduces the risk of CVD [cardiovascular] events and coronary mortality…For every 1 percent of energy intake from SFA replaced with PUFA, incidence of CHD [coronary heart disease] is reduced by 2 to 3 percent. However, reducing total fat (replacing total fat with overall carbohydrates) does not lower CVD risk."
Sugars: "Strong and consistent evidence shows that intake of added sugars from food and/or sugar sweetened beverages are associated with excess body weight in children and adults…Strong evidence shows that higher consumption of added sugars, especially sugar-sweetened beverages, increases the risk of type 2 diabetes among adults and this relationship is not fully explained by body weight.[Theae findings are] compatible with a recommendation to keep added sugars intake below 10 percent of total energy intake."
Food labels: "Consumers would benefit from a standardized, easily understood front-of-package (FOP) label on all food and beverage products to give clear guidance about a food's healthfulness." [This refers to the recommendations of the Institute of Medicine that I've written about previously; they disappeared without a trace.]
Soda taxes: "Economic and pricing approaches, using incentives and disincentives should be explored to promote the purchase of healthier foods and beverages. For example, higher sugar-sweetened beverage taxes may encourage consumers to reduce sugar-sweetened beverage consumption."
SNAP: "Policy changes within the federal Supplemental Nutrition Assistance Program (SNAP), similar to policies in place for the WIC program, should be considered to encourage purchase of healthier options, including foods and beverages low in added sugars. Pilot studies using incentives and restrictions should be tested and evaluated."
The DGAC recommends (these are direct quotes but not necessarily complete):
Establish local, state, and Federal policies to make healthy foods accessible and affordable and to limit access to high-calorie, nutrient-poor foods and sugar-sweetened beverages in public buildings and facilities.
Set nutrition standards for foods and beverages offered in public places.
Improve retail food environments and make healthy foods accessible and affordable in underserved neighborhoods and communities.
Implement the comprehensive school meal guidelines (National School Lunch Program) from the USDA that increase intakes of vegetables (without added salt), fruits (without added sugars), and whole grains.
Limit marketing unhealthy foods to children.
Make drinking water freely available to students throughout the day.
Ensure competitive foods meet the national nutrition standards (e.g., Dietary Guidelines for Americans).
Eliminate sugar-sweetened beverages [from schools].
Nutrition Facts label should include added sugars (in grams and teaspoons).
And for all federal nutrition programs, the DGAC recommends:
Align program standards with the Dietary Guidelines for Americans so as to achieve the 2015 DGAC recommendations and promote a "culture of health."
Congratulations to this committee for its courageous recommendations.
Why courageous?  See my previous comments on the objections to such advice.
The next step: public comment:
The public is encouraged to view the independent advisory group's report and provide written comments at www.DietaryGuidelines.gov for a period of 45 days after publication in the Federal Register. The public will also have an opportunity to offer oral comments at a public meeting in Bethesda, Maryland, on March 24, 2015. Those interested in providing oral comments at the March 24, 2015, public meeting can register at www.DietaryGuidelines.gov. Capacity is limited, so participants will be accepted on a first-come, first-served basis.
Here's your chance to support this committee's excellent ideas and demonstrate public approval for diets that promote the health of people and the planet.
Note: the reactions to the report are pouring in and I will deal with them next week.  Enjoy the weekend!