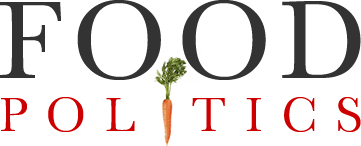 by Marion Nestle
Sponsored study of the week: meat and mental health
Marta Zaraska, the author of Meathooked: The History and Science of Our 2.5-Million-Year Obsession With Meat and, more recently, Growing Young: How Friendship, Optimism and Kindness Can Help You Live to 100, sent me this message:
While doing research on my 3rd book I stumbled upon a research paper in which the authors "forgot" to disclose connections to the meat industry. I thought this may be interesting to you. Here is a link to the paper – https://www.tandfonline.com/doi/full/10.1080/10408398.2020.1741505

And here is a link proving that the lead author is taking money from the meat industry – which was not disclosed in the paper: https://www.usi.edu/liberal-arts/focus-newsletter/liberal-arts-achievements/la-achievements-2018-2019/
I thought this was well worth a look.  The full paper is here.
Title: "Meat and mental health: a systematic review of meat abstention and depression, anxiety, and related phenomena."  Dobersek U, et al.  Critical Reviews in Food Science and Nutrition, 2020, published ahead of print.

Method: This is an meta-analysis of previously published papers (18) that compared the psychologica health of meat consumers and meat abstainers.

Conclusion: "The majority of studies, and especially the higher quality studies, showed that those who avoided meat consumption had significantly higher rates or risk of depression, anxiety, and/or self-harm behaviors…Our study does not support meat avoidance as a strategy to benefit psychological health."
When I saw this conclusion, I immediately wondered: "Who paid for this?"  Bingo!
Funding: This study was funded in part via an unrestricted research grant from the Beef Checkoff, through the National Cattlemen's Beef Association. The sponsor of the study had no role in the study design, data collection, data analysis, data interpretation, or writing of the report [for an interpretation of this last statement, see my book, Unsavory Truth: How Food Companies Skew the Science of What We Eat].
What got Marta Zaraska's attention was the denial of conflicted interests related to this paper.
Disclosure: "No potential conflict of interest was reported by the author(s)."
But the University of Southern Indiana praises the 2018-2019 accomplishments of the first author of this paper as follows (my emphasis):
Dr. Urska Dobersek, assistant professor of Psychology, and her students presented their research, "Are levels of testosterone, willingness to cheat and exercise motives related?" and "The relationship between facial asymmetry and exercise" at the North American Society for the Psychology of Sport and Physical Activity national conference in Baltimore, Maryland.

Dobersek also received a $10,555 grant from the National Cattlemen's Beef Association to conduct a systematic review on "Beef for a Happier and Healthier Life."
Oops.  Omission of this grant gives the appearance of conflicted interest and should have been disclosed.  I hope the author corrects this oversight immediately.
If the other authors have similar connections to meat industry group, they too should disclose them.