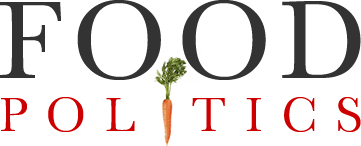 by Marion Nestle
Good news #3: Hatch Act invoked against USDA Secretary
Some parts of government are still functioning the way they are supposed to.
The U.S. Office of the Special Counsel (OSC) says USDA Secretary Sonny Perdue has violated the Hatch Act and has to repay the US Treasury.
In letters to Citizens for Responsibility and Ethics and to Representative Marcia Fudge,  the OSC says
Secretary Sonny Perdue violated the Hatch Act on August 24, 2020, when he spoke in his official capacity at an event in Mills River, North Carolina (the "August 24 event")…The event generally related to USDA's Farmers to Families Food Box Program…Because he was on taxpayer-funded travel when he engaged in the political activity at issue, the U.S. Treasury must be reimbursed for the costs associated with his political activity.  Provided that immediate corrective action is taken and the U.S. Treasury is reimbursed for such costs, OSC will decline to pursue disciplinary action and instead consider this file closed with the issuance of the cure letter.
As the letter explains,
The Hatch Act restricts certain political activities of federal executive branch employees, except for the President and the Vice President.  As the Secretary of Agriculture,
Secretary Perdue is covered by the Hatch Act and prohibited from, among other things, using his official authority or influence for the purpose of interfering with or affecting the result of an election.  Under this provision, Secretary Perdue may not use his official title while engaging in political activity or his official position to advance or oppose candidates for partisan political office.
In his speech at the event, Perdue congratulated President Trump for authorizing an additional billion dollars to the Farmers to Families Food Box Program
you just authorized another billion dollars for the hungry people of this country and to keep our farmers there. And we've never seen an outpouring of compassion like that for people who matter, because people matter to you. And that's what's important to me. And that's what's going to continue to happen—four more years—if America gets out and votes for this man, Donald J. Trump.
This is a particularly clear violation of the Hatch Act.  The OSC is right to call Perdue on it and insist that he repay taxpayers.
This is also yet another example of how the Farmers to Families food box program, about which I have written repeatedly, is more about politics than feeding the hungry.
The OSC investigation resulted from a complaint from Representative Fudge and several colleagues in Congress.   It's also good to see them doing their job.