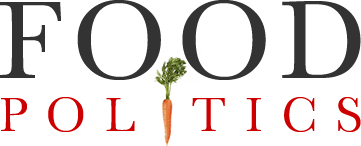 by Marion Nestle
Good news #4: Successes in reducing sugary drinks
Berkeley, California, ever at the cutting edge of public health nutrition policy, is banning junk food from checkout counters and aisles.
The new policy will require retailers larger than 2,500 square feet to stock healthy food at the register and in areas where customers wait in line, instead of items like chips, soda and candy. It forbids food items with 5 grams of added sugars and 200 milligrams of sodium, chewing gum and mints with added sugars, and beverages with added sugars or artificial sweeteners. In Berkeley, the policy will affect stores like Safeway, Monterey Market, Whole Foods and Berkeley Bowl.
As a result of efforts like these—public health campaigns, soda taxes, and other initiatives—heavy consumption of sugary drinks (more than 500 calories/day) is declining.
According to a recent study, the percentage of children who drink more than 500 calories worth of soft drinks a day declined from 11% to 3%  from 2003 to 2016, and the percentage of adult heavy consumers declined from 13% to 9%.
This trend is in the right direction.