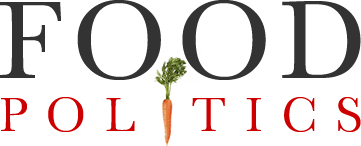 by Marion Nestle
Happy new year (let's hope), and an (re)introduction to FoodPolitics.com
With a new year comes a fresh start, and I find myself reflecting on how long I've been writing this blog and what it means for me and for readers.
For starters, this is post #4174 since I started doing this on May 29, 2007.
On the blog's tenth anniversary, I posted a self-interview on what it is about.  Here is an update.
What do you do on foodpolitics.com?
Usually, I post only once a day, Monday through Friday, with occasional lapses.  As a general rule (but there are lots of exceptions), the week goes like this:
Mondays: food company sponsorship of research or advertising
Tuesdays and Wednesdays: current news
Thursdays: collections of links to articles on a single topic
Fridays: Weekend Reading—a book or report of interest
I also post current information about my books (under the Books tab), upcoming talks (Appearances), and links to interviews on radio, TV, or in print (Media).  The About tab has information about my biography , c.v., and conflict-of-interest policy.
I'm not keeping up with the other tabs very well, alas.
How did you get started?
As I discussed in a previous post, the publisher of my book, What to Eat, asked me to be a guinea pig for use of social media to publicize books.  It set up the site with the understanding that I would try it for six months.  It's gone through some iterations, but I'm still at it.
What does it do for you?
I'm still doing it because I find it useful and well worth the time.  It is:
An online file cabinet:  It 's quicker and less cumbersome than downloading paper and filing things in file cabinets.
A way to link to original documents: I can find them right away.  Sometimes the site is the only place to find certain documents online.
Tracing back history: WordPress has a superb search engine, so it is easy to find posts on specific topics right away.
Informative for reporters: They can see what I've written and don't have to call me.
An incentive to keep up: It forces me to keep up with current topics in food and nutrition.
A gift to students: If students are writing papers about food politics topics and need help getting started, I can refer them to the site.
My private platform: I can say what I think.  I don't have advertisers or sponsors to worry about.
You must have to spend a lot of time on it?
Not nearly as much as I thought it would take.  Once I figured out how to schedule posts, I tend to do them in odd minutes and set them up over the weekend for the entire week.
How do you know what to write about?
Food politics is a full-employment act.  There is always something.  I subscribe to a dozen or so daily newsfeeds.  Choice is a bigger problem.  Because I only post once a day, I pick the topic I find most interesting, outrageous, or funny.
Why don't you allow comments?
I wish I could.  I would love to engage with readers—and used to—until the trolling got out of hand.  Readers insisted I stop the nasty personal comments about my age, looks, ethnicity, and opinions posted by anonymous writers who used false email addresses from IP addresses traced to a spam site.  I couldn't think of a way to stop the incivility without stopping comments altogether.
Who pays for it?
Before I retired from NYU, the blog was part of faculty community service and I paid for it out of the fund that came with my Paulette Goddard professorship.  Now I pay for it myself out of retirement funds.
How do you handle the design and technological aspects?
As long-standing readers know, technology is not my long suit.  My site was designed and is managed by Rachel Cunliffe and Stephen Merriman of Cre8d-Design.com.   Their company is located in Auckland, New Zealand (of course!), but the time/date difference has never been a problem.   They are a pleasure to work with.
Is the blog useful to anyone else besides you?
This is for someone else to decide.  I certainly hope so.  I try hard to make it a worthy resource for everyone, but especially students.
Who reads it?
I don't really know.  the statistics say it has a small readership of just a couple of thousand a day, but the posts go out over Twitter (@marionnestle) where I have 144,000 followers.  Readers tell me when I make mistakes, so I know someone must be reading it.
How long will you keep doing this?
I like doing it.  It's become a habit, and an easy one to follow.  When it stops being fun to do, I'll end it.
Tomorrow: back to food politics.