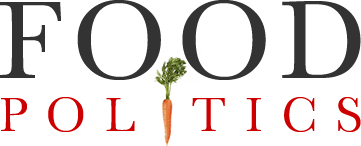 by Marion Nestle
Cell-based meats: an skeptical update
Cell-based meat substitutes are not yet on the market in the United States, but they are of great interest, and here's why.
Singapore has approved them:  Eat Just, Inc., a company that applies cutting-edge science and technology to create healthier, more sustainable foods, today announced that, after a rigorous consultation and review process, its cultured chicken has been approved for sale in Singapore as an ingredient in chicken bites.
A Singapore restaurant is serving cell-based chicken nuggets:  At the debut, the restaurant served cultured chicken from the brand GOOD Meat, affiliated with Eat Just, a sustainable food startup based in the U.S. The event followed the regulatory approval of the product by Singapore…"I'm speechless," an 11-year-old patron of the restaurant said in a press release. "It will save a lot of animals' lives and it will be a lot more sustainable … It feels good to have chicken without feeling guilty."  [Comment: Do we really need cell-based chicken nuggets?]
There is a lot of money riding on these products: A company in Israel has gotten the price down to $7.50 per "chicken breast," and just got nearly $27 million in funding.  [Prices are going to have to go down a lot further before anyone other than the rich will buy them]
Another Isreali company is producing 3-D printed steaks: Aleph Farms, based in Israel, unveiled the first 3-D-printed ribeye steak, using a culture of live animal tissue and "broadening the scope of alt-meat in what is expected to be a rich area of expansion for food companies."  This used "a culture of live animal tissue, in what could be a leap forward for lab-grown meat once it receives regulatory approval."  [Do we need 3-D printed food?]  
The meat may be fake, but the proIfits are real
If this sounds too good to be true, it probably is.  Indeed, as this article maintains, "There's a giant, undiscussed, confounding party at the table: the world's richest investors, and the delicious returns they expect for saving the world."
Meat imitation technologies can deliver staggering profits and act as a lever to transition from a destructive animal diet—but we must recognize that those two potentialities are necessarily in conflict….When the chips are down, fiduciary obligations will always privilege profit over the moral aspirations of these patent-clutching geniuses. In its present composition, the new-meat dream will let us down. Its affinity for and resemblance to agribusiness will ultimately prolong the hegemony of animal slaughter, not challenge it.